Commercial Sealcoating Blaine
Posted In: Asphalt Maintenance
Published On: September 22 2016
Written By: Seal King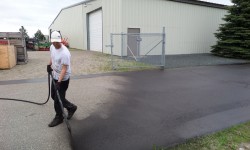 When you run a business, you get caught up in the daily grind of internal affairs, trying to please your clients and getting the job done. What many business owners forget to think about, unless they have someone thinking about it for them, is the external upkeep of their company. Especially when you're trying to bring in new clients or make a name for yourself as a reputable Blaine, Minnesota, business, your company's outward appearance can be as important for getting your clients in the door as your actual services or experience. That means that your business should be well-maintained, all the way down to the asphalt parking lot, because, no matter how infrequently you might think about the state of your asphalt, your clients will notice if your parking lot is falling to pieces. That's why Seal King Professional Sealcoating is here for all of your asphalt sealcoating needs to ensure that your asphalt remains durable.
Time-Tested Commercial Sealcoating Process
Seal King is both a residential and commercial sealcoating company that maintains asphalt all over Blaine, MN. While some asphalt sealcoating companies might tell you that they're more qualified to maintain commercial asphalt because it's their sole focus, we believe that the opposite is true. By focusing on both residential and commercial asphalt sealcoating, we've been able to perfect both asphalt sealing processes, using the differences between residential and commercial asphalt uses to inform and improve our sealcoating processes. That means that we've learned from our experience and now utilize a time-tested commercial sealcoating process that works best for commercial asphalt maintenance. This process includes power cleaning and sweeping, and any additional cleaning needed; crack preparation and pouring hot rubber filler to repair any asphalt damage; treating oil spots; applying two coats of sealer for a more durable sealcoat that withstands heavier traffic than residential asphalt; and line stripping.
Longer-Lasting Asphalt with Durable Commercial Sealcoating
One of the most important things to know when looking for a sealcoating company is why your asphalt needs a sealcoat at all. Unless you know why your asphalt must be maintained, you can't know how to find a trustworthy and reliable asphalt maintenance company, let alone an asphalt sealer that knows the special requirements of commercial sealcoating. Asphalt, although highly durable and long-lasting, is a material that still breaks down if left unmaintained, especially in Minnesota, where your asphalt has to contend with harsh winter storms and blistering sunlight in turn. Asphalt is liable to fade, crack, break, and grow weaker over time as it's exposed to the elements, the weather, and vehicle fluids, and the only way to ensure you get the long-lasting asphalt you invested in is to maintain it with sealcoating. Trust Seal King Professional Sealcoating to be sure your asphalt sees the commercial sealcoating treatment it needs to keep your Blaine, Minnesota, business running smoothly and looking well-kept. Call us today at (952) 469-6639, and find out what sets our commercial sealcoating services apart from the rest.