Commercial Sealcoating For The Upper Midwest
Posted In: Commercial Asphalt Sealcoating Services
Published On: January 20 2023
Written By: Seal King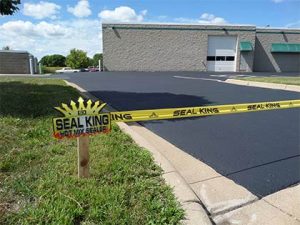 Owning or managing a business requires a lot of juggling. Payroll, pricing, accounting, human resources, marketing, and much more. If you own a brick-and-mortar business of any kind of traffic, you are also responsible for making sure the exterior of your property is clean and looks its best. Your asphalt surfaces around your business are one important part of the exterior of your commercial property. If you are noticing discoloration, cracks, potholes or other weathering, it may be time to consider asphalt repair and/or professional sealcoating services to protect your asphalt for the years ahead. Commercial sealcoating is an affordable investment in your property that will keep it looking good all year round.
Benefits Of Sealcoating Services In The Upper MIdwest
Rain, snow, wind and sunlight will damage any asphalt surface over time. Our high-quality sealcoating solution will create a protective layer for your asphalt, preventing normal weathering that causes cracks and eventually potholes which can be dangerous and unsightly. Those small cracks and potholes may not seem like a big deal but can really make a negative impression on a potential new customer.
As a business owner or manager, you are also responsible for making connections with other businesses that you need to hire for services. Seal King has been working in the Minnesota, Wisconsin and Iowa area for many years and has built a reputation for great customer care, affordable pricing and doing good work. We take pride in our work and are always looking for other local businesses to partner with. We have Seal King locations all over the area, but each one adheres to the same high standards. There are many other sealcoating companies out there, but none has the reputation for quality, affordability and service. We use the highest quality sealant in the business, state of the art tools, and we take great care to leave your property clean after we complete our work.
Professional Sealcoating Services In The Upper Midwest
When you partner with Seal King, you can trust us to complete the job right. We stand behind our work and if you have concerns after we leave, just give us a call and we'll make it right. That is what we call our Seal King Promise. We understand how busy you are as a business owner/manager, so leave this work to us and you will never have to worry again about damaged asphalt!