Commercial Sealcoating in Faribault, MN
Posted In: Commercial Sealcoating
Published On: September 30 2019
Written By: Seal King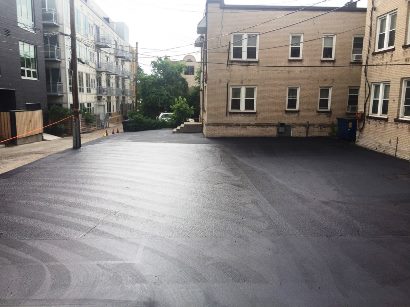 When you think about all of the work that you do for your business each month, you may not ever consider maintenance for your parking lot. We all know that the harsh Minnesota weather can cause streets, sidewalks and parking lots to have cracks and potholes so it can be easy to overlook damaged, worn asphalt. You may not be ready to completely replace your asphalt parking lot, so it becomes fairly easy to ignore it for the time being, while you focus on other important areas of business. You may not be aware of a simple, affordable process that can repair your commercial asphalt services called sealcoating. Sealcoating is the process of applying a clear, protective coating on your paved surface to protect and extend the life of your asphalt. Seal King offers commercial sealcoating services in Faribault, MN and can help you keep your parking lot looking its best so that you can make a good first impression, keep you customers and employees safe and save yourself some money.
Commercial Asphalt Sealcoating Services
Seal King is the leading commercial sealcoating company in the Minnesota area. We stand out from our competition because we offer the best possible customer service, we use the highest quality equipment and materials and we always stand behind our work. This is our promise to you. If you have concerns about a job we have completed, simply give us a call and we will make every possible effort to correct the situation. Our sealcoating contractors can repair potholes, seal cracks and keep your parking lot safe, smooth and functional.
What Is Involved In the Sealcoating Process?
Our team follows a specific and thorough process for each parking lot sealcoating job to maximize effectiveness. First, we power wash and sweep the area, then we complete any necessary specific cleaning, prepare the cracks for the hot rubber filler that we use. We treat all oil spots and apply two coats of our highly effective sealer. Finally, we complete line striping to make your parking lot look brand new.
This process keeps moisture from getting underneath the asphalt in your parking lot, which is what causes the asphalt to crack, break and create potholes. In addition, commercial sealcoating extends the life of your asphalt, slows down oxidation and weathering, resists gas and oil spills, improves the appearance of the asphalt, and provides slip resistance.
If you live in Faribault, MN and would like to learn more about our commercial sealcoating services, call Seal King at (952) 707-0900.