Commercial Sealcoating Repairs & Sealcoating WI
Posted In: Asphalt Repairs
Published On: November 27 2020
Written By: Seal King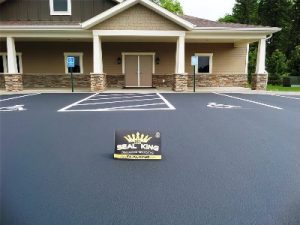 As a commercial property owner, it probably feels like there is always something that you can do to enhance the overall look of your property. The health of your property's asphalt may have been pushed to the back burner for quite some time. At Seal King Professional Sealcoating, we are here to change that! Thanks to our affordable commercial sealcoating application and repair options, you'll be able to revitalize the look of your parking lot or driveway without having to pump too much money into the project.
Improving your Asphalt Affordably
Our sealcoating experts regularly hear from our commercial clients that they just don't have money in their budget to rejuvenate and repair their asphalt. Once they hear about our affordable sealcoating application and repair options, they quickly jump in on this great investment. A simple commercial sealcoating application can keep your asphalt safe and strong, while also providing a fresh look to your driveway or parking lot. This application is able to extend the life expectancy of your asphalt, reduce oxidation and weathering, decrease the amount of visible gas and oil spills and even provide a slip resistance that your employees and clients will be happy about. The best part about this commercial property enhancement is that it is affordable. Our sealcoating services are just a fraction of the cost you'd pay to replace the asphalt on your property.
Wisconsin Asphalt Repair Specialists
In addition to our commercial sealcoating services, we can also handle your asphalt repairs as well. Dealing with large cracks in your asphalt or even potholes? Our team has you covered when it comes to handling these necessary repairs. The longer you wait to address this type of damage, the worst they will become down the road. Our asphalt repair specialists repair your asphalt by using the strongest materials around. In turn, your repaired asphalt will be able to withstand traffic, tough weather, etc., for many years to come.
There's an affordable way to revitalize the look of your commercial driveway or parking lot. At Seal King Professional Sealcoating, we're proud to offer our 8-step commercial sealcoating process at a fair price. This process strengthens your asphalt and boosts your curb appeal at the same time. Additionally, if you are in need of commercial asphalt repairs, we've got you covered every step of the way.