Commercial Sealcoating Rochester MN
Posted In: Commercial Asphalt Sealcoating Services
Published On: February 15 2021
Written By: Seal King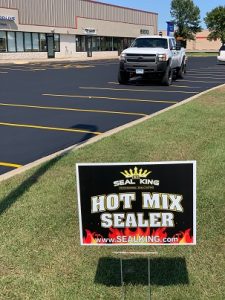 As the snow thaws around Rochester Minnesota parking lot and we begin to see the ground beneath our feet once again, it's important as a commercial property owner to assess your parking lots and determine if it's time for sealcoating. Sealcoating extends the life of your asphalt. It slows down the oxidation, it protects against weathering, and it helps to resist gas and oil spills within your parking lot. Overall, it improves that appearance of your asphalt and even provides slip resistance for those walking on your lot. Obviously, there is no question that sealcoating your property will add value to your commercial lot. At Seal King Professional Sealcoating, we want you to get the most out of our services. We ensure the best products and techniques so that you have the best possible results every single time. But don't take our word for it. Give us a call and let us know how many references you would like to call.
Seal King Hot Sealant
At Seal King, our products out last any competition, keeping your parking lot protected for much longer. Everything we do here is done with you in mind, right down to the mixing of our sealant. Our sealant is custom blended using the best raw products on the market, high performance additives and special blackening agents to keep your parking lot looking new and fresh. We utilize the most advanced hot mixing equipment and pumps during our mixing so that you get that perfect, precise sealant every single time. With asphalt sealants, timing, temperature and precision is of the utmost importance. At Seal King, we deliver every single time.
8 Step Commercial Seal coating Coating Process
No matter how great a product is, however, without the proper application and expertise, you will not make the most of it. This is why our expert professionals follow an 8-step commercial seal coating process. From power cleaning and sweeping the area for preparation to line striping the finished lot, we methodically complete every step so that you have fantastic, long lasting results every single time.
Commercial Sealcoating Rochester Minnesota
Commercial sealcoating is a necessary process that adds so much value to your property. Not only does it look aesthetically pleasing, it also increases the life of your asphalt, protecting it from potholes and future cracks. If you own a property and are in need of commercial sealcoating, feel free to give our experts a call today. For more information about professional commercial sealcoating or to book your sealcoating service with our staff today, give your Rochester, MN Seal King Professional Sealcoating a call today at (507) 298-2372.