Commercial Sealcoating Services in Blaine, MN
Posted In: Commercial Sealcoating
Published On: January 15 2020
Written By: Seal King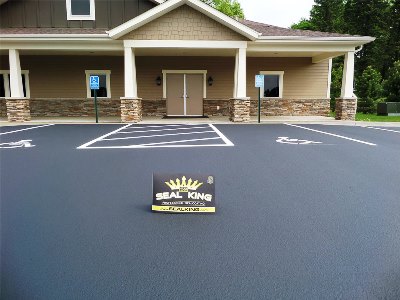 Minnesota is known for its extreme weather. The winter often brings more than 50 inches of snow and ice and even the summer months can sometimes bring brutally hot temperatures, thunderstorms and wind. As a business owner or manager, you have to watch how weather impacts the exterior of your business. Nothing is impacted by the weather more than your asphalt. Your parking lots take a beating all year long as the snow, ice and rain wash over them. Fortunately, protecting your property's asphalt is much easier than you might think. Seal King offers professional commercial sealcoating services in Minnesota that will help prevent cracks and potholes; keeping your property safe for customers, and looking its very best.
Protect Your Parking Lots with Sealcoating
Have you ever wondered how cracks and potholes form? Moisture from rain, snow and ice can seep under your parking lot, creating those cracks and potholes from below. These problem areas grow larger and larger and cause safety issues for pedestrians and vehicles if not professionally treated. When you decide to have your asphalt professionally seal-coated, you are actually adding a protective layer on your asphalt, preventing this water from getting underneath and causing these problems in the first place. Sealcoating is highly effective and completely affordable. It is a great investment in your local business. Commercial sealcoating will extend the life of your asphalt, actually saving you money (and headaches!) down the road.
Professional Sealcoating Process
Just like you, the team at Seal King takes their job very seriously. We use only the best products, equipment and techniques available and never cut corners on a sealcoating job. We follow a specific and tested 8-step process for commercial sealcoating that ensures that our work is consistent and can stand the test of time. This process includes:
Power washing and sweeping the entire area
Additional cleaning where necessary
Crack Preparation
Hot Rubber Filler for the cracks
Treatment of all oil spots
Using two coats of professional sealer
Thoroughly applying the sealer over the area
Line Striping
Blaine Commercial Sealcoating Services
Keeping the parking lots around your business looking their best can help attract and retain your customers and clients. Partner with Seal King for all of your commercial sealcoating needs. With nearly thirty years of experience in the business, we have built a positive reputation for customer service and high-quality products. We offer a satisfaction guarantee (called the Seal King Promise) so you can feel confident when you work with our team.