Commercial Sealcoating Somerset, Wisconsin
Posted In: Commercial Asphalt Sealcoating Services
Published On: February 01 2019
Written By: Seal King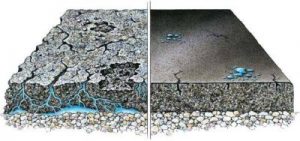 There are thousands of different types of business in the Wisconsin and Minnesota area, and even more across the United States.  If you own or manage a local business, you likely value the appearance of your commercial location and believe that it has a significant impact on your overall success.  The condition of your business' parking lot is one very important element of the overall condition of the building where your business is located.  Seal King understands the importance of your business' appearance and offers high quality commercial sealcoating services that can repair and protect the sidewalks and parking lots in and around your Somerset, WI business. The nature of our business—repairing, resurfacing, and sealing your asphalt surfaces—is to help you maximize the success of your business.
Protect the Exterior of your Business with Sealcoating
If you own or operate a business in or near Somerset, Wisconsin, Seal King can help you protect your investment.  When you contract with our team, you can count on us to honor the terms of our contract and provide you with the best possible customer service.  In addition, all of our work on your asphalt surfaces will be covered by the Seal King Promise, which is our commitment to ensuring your satisfaction.  We give your business a boost by creating a parking surface that is inviting and safe for your clients and customers.
One of the realities of asphalt surfaces is that they degrade over time. Colors fade and cracks develop.  A seal-coated asphalt surface treated by Seal King adds longevity to your business' asphalt surface.  Our process resists even the harshest Wisconsin weather.  Our work on your asphalt surface will always be of the highest quality.  We start by sweeping and power-cleaning the area to be seal-coated.  We then prepare and fill any and all cracks found in the surface with hot rubber filler.  We apply two coats of sealer, and when the seal-coating process is complete, we offer a line-striping surface to your exact specifications.
Experienced and Professional Commercial Sealcoating Services, Somerset WI
Unlike other sealcoating companies, Seal King has extensive experience working with businesses.  We understand your commercial interests and we take pride in navigating issues when they arise.  The seal-coating process tends to be simple.  What is not always simple is effective communication and professionalism.  Our team always works toward creating open lines of communication with our clients, no matter the location of the project or the size of the job.
If you own or manage a business in Somerset, Wisconsin, give Seal King a call at (651) 210-1745 for more information or to request a quote for commercial sealcoating services.