Do I Need to Sealcoat My Driveway?
Posted In: Driveway Sealcoating
Published On: April 20 2022
Written By: Seal King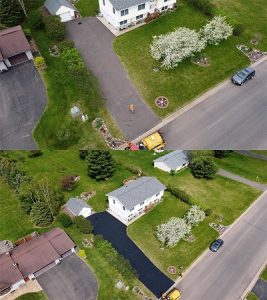 One of the most common questions that we receive is whether sealcoating is a necessary service. If you live in the Upper Midwest, the answer is a definitive yes. The harsh weather wears down asphalt over time, causing discoloration, cracks, and even holes. This is caused by moisture getting underneath the surface. Sealcoating protects your asphalt from this moisture, from sunlight, and from excessive foot or car traffic over time. Seal King offers high quality professional sealcoating services for residential and commercial customers all over the Midwest. We can complete any necessary asphalt repairs and then apply the very best sealer on the market so that you get the most from your investment.
Improve Your Home's Curb Appeal With Professional Sealcoating
Your driveway is one of the first things that a guest sees when they come to your home or business. Cracks, holes and discoloration can be unsightly, but it can also be unsafe. Cracks and holes in your asphalt will continue to grow larger and deeper, causing more and more problems for your property. If you have noticed that your driveway has even a few small cracks, it may be time to reach out to a local Seal King. The sooner you get your driveway repaired and protected the better! This investment in your property is relatively small but can save you from having to replace your entire driveway. The sealcoating process extends the life of your driveway and improves the overall curb appeal of your home or business.
Professional Sealcoating Services In The Upper Midwest
Once you decide that you want to move forward with a sealcoating project on your driveway, Seal King can help. We offer affordable pricing and the highest quality services in the upper midwest. We never cut corners, answer any and all questions from our customer and leave the area we work on perfectly clean when we leave. Applying the highest possible coating is very important to the work that we do. We want you to be satisfied with our work. We have built our reputation on quality and service. In fact, we are so serious about this that we offer what we call our Seal King Promise. If you are not happy with our work, reach out to us and we will make it right. We treat our customers with kindness and professionalism and will work hard for you. For more information about our professional sealcoating services, call us at one of our many area locations.