Driveway Asphalt Sealcoating Benefits
Posted In: Asphalt Sealcoating
Published On: October 19 2020
Written By: PROFESSIONAL SEALCOATING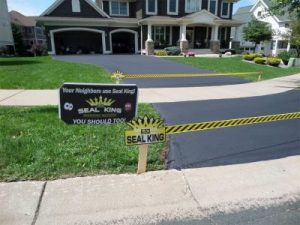 A driveway that has been freshly treated by Seal King will stand out next to the others in the area. However, a Seal King sealcoated driveway does more than just look nice. The distinct look of a driveway that we have treated will also protect your driveway from the harsh elements including rain, snow, sun and wind damage.
Benefits of Driveway Sealcoating
The process of sealcoating your driveway adds more than beauty to your driveway. It adds strength and durability to the surface you rely on so much and so often.  Over time, water, heat, and cold wear away at your driveway surface. Those elements weaken your driveway over time, which can lead to cracks, pits, holes, and eventually complete disrepair. However, when treated by Seal King, your driveway is given new life. Your initial motivation may be driven by a desire to make your driveway look more presentable after years of fading and perhaps some minor cracking. By having us sealcoat your driveway, though, you are actually strengthening it for years to come.
Another appealing aspect of our work is that it can increase your property value.  There is no doubt that curb appeal plays an important role in determining the value of a property, and a driveway that has recently been treated by our team automatically gives your property a boost.  A sealcoated driveway is a great help to people who are considering selling their home.
Our Professional Sealcoating Process
To achieve our desired results, we use our knowledge of industry processes to achieve the optimum outcomes.  Our practices include heating crack filling and joint filling compounds to 400 degrees prior to application.  This ensures that filling and bonding will be complete and thorough.  Each compound liquifies at 400 degrees, thereby allowing it to penetrate deeply into the cracks in your driveway and bond with the base components.
Once the cracks have been filled, we apply our hot-seal.  Heating and liquifying is essential to our process, in that the liquified sealcoating penetrates the surface and hardens smoothly and strongly.  Before it hardens, though, we take care to make the surface smooth and even to give your driveway the distinctive and beautiful Seal King appearance.  After a short period of time, depending on temperature and air moisture, your driveway will once again be ready for you to use in the ways you have become accustomed.
If you are interested in repairing your driveway or having our crew sealcoat it for you, there are many Seal King locations near you.