Driveway Enhancements On A Budget in Minneapolis, MN
Posted In: Crack Filling
Published On: September 30 2020
Written By: Seal King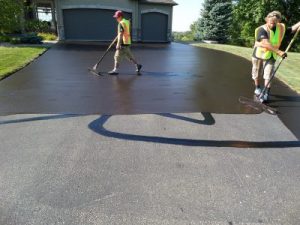 If you have spent any time looking at the estimated costs of asphalt replacement, you've likely decided to put off the work needed on your driveway. Driveway replacement costs are extremely expensive, and unfortunately, some people think that is their only option to enhance their driveway. The truth, however, is that there are more affordable options to consider. At Seal King Professional Sealcoating, one of our primary business focuses is on helping Minneapolis, MN homeowners enhance the look and strength of their driveway affordably. Our 10 step patented process makes sure every inch of your driveway is done correctly.
Professional Sealcoating Services
One great way to revitalize the look of your existing driveway without having to replace your asphalt is through our asphalt sealcoating services. Using the strongest sealcoating materials around, we provide a sealcoating application that will protect your driveway from aging, weathering as well as oil and gas spills. Additionally, our sealcoating services will expand the life expectancy of your driveway and will provide you with a fresh, new looking driveway. Using our 10-step residential sealcoating process, every job that we take on is completed with extreme precision and attention to detail.
Professional Garage Apron Repairs
Another common issue that homeowners in Minneapolis, MN are left to deal with is a damaged garage apron. This is when the gravel between your driveway and garage settles. Over time, as your driveway settles, it can lower and separate from your garage. This is not good because water is then able to penetrate between your garage apron and driveway, which can cause erosion. Our asphalt experts are able to fix your sunken garage apron back to its original condition through our proven 9-step process.
The Right Team for the Job
Experience goes a long way when talking about driveway enhancements. Our team of asphalt professionals have been revitalizing the look of driveways around Minneapolis, MN and beyond since 1991. We place a strong emphasis on customer service and providing effective driveway enhancement measures that last. There are so many other contractors around that you have to call each year to come back to repair the asphalt work they last completed. That's not the type of service you'll receive from our staff. That's why we offer our clients the Seal King Promise. If you find yourself not completely satisfied with our work, let us know before the end of the season, and we'll make sure to resolve any issue that you have quickly.
Finding driveway enhancements on a budget is not impossible. As long as you partner with our team at Seal King Professional Sealcoating, you'll be able to boost the curb appeal of your driveway, while also keeping it protected for the future. Contact our Minneapolis, MN location at (952) 469-6639 to request a free quote today.