Driveway Oil Spot Treatment Company
Posted In: Asphalt Maintenance
Published On: April 20 2020
Written By: Seal King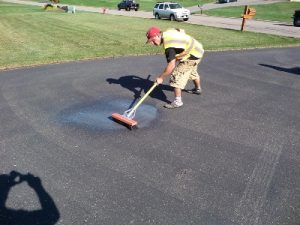 Do you feel like oil spots are beginning to take over your driveway? Do you park your vehicles out in your driveway regularly and have oil spots began to develop where you often park? This can definitely become an eyesore for your property, and it can also wear down the asphalt as well. So, if you are looking for a driveway oil spot treatment company to get rid of those oil spots at an affordable price, there's no better option than Seal King Professional Sealcoating.
There may be a bunch of companies that say they offer driveway oil spot treatments, but none that offer the high level of quality that our team at Seal King Professional Sealcoating can offer. Our confidence in our driveway oil spot treatments come from utilizing the best materials on the market. We utilize premium petroleum-based emulsion pavement sealers with high performance polymer additives. This allows for our driveway oil spot treatments to stand up well against even the toughest weather that mother nature may try and throw our way. Additionally, we've been in this industry dating back to 1991. So, you can rest assured that we have mastered the driveway oil spot treatment process. Your driveway will not be one that we are testing any type of processes on. Instead, you'll receive an exceptional driveway oil spot treatment that is built to last.
Quality Oil Spot Treatment Checklist
With every driveway oil spot treatment project that we take on, it goes through our proven quality checklist. This helps ensure that every step of our treatment project is completed appropriately, and it also effectively makes sure that our clients get the best driveway oil spot treatment available every single time. Through this checklist, we'll focus on the fine details and will evaluate the job to ensure that it holds up to our expert standards. If for some reason, you aren't totally satisfied with our driveway oil spot treatment, just let us know before the end of the season and we'll come back over to make sure that things are right at no extra cost to you.
Driveway Oil Spot Treatment Company
Once your driveway oil spot treatment project is complete, you'll never even know those spots were ever there. Don't let the oil spots on your driveway take away from the overall look of your property. As your preferred driveway oil spot treatment company, we're eager to get to work for you. To find a Seal King Professional Sealcoating location nearest you, visit us at www.sealking.com today.