Driveway Repair And Professional Sealcoating
Posted In: Driveway Repair
Published On: November 25 2022
Written By: Seal King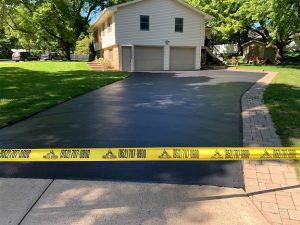 Our driveways are used multiple times a day by multiple vehicles not to mention that these areas also get significant foot traffic. Over time an asphalt driveway can look worn out, discolored, brittle and develop cracks and even potholes. Harsh weather including rain, sunlight, snow and ice contribute to this deterioration over time. This can make your driveway – the entry to your home – a safety hazard, not to mention an eye sore. Seal King has many convenient locations all over Minnesota and can provide professional driveway repair for your residential property. We can ensure that your driveway is free from any damage, is safe, looks its best and is welcoming to all of your guests!
Driveway Repair And Professional Sealcoating
Our teams have extensive experience in driveway repair. Cracks and damage to asphalt in this area is unavoidable. Your driveway is exposed to the elements 24 hours a day, 365 days a year. There are no breaks, in fact, the hot sunlight of summer can be just as damaging to your driveway as the ice and snow during the winter. The key as far as we are concerned is to repair the asphalt quickly so that the cracks and holes do not have a chance to grow and then to protect your asphalt from further damage. Seal King will do just that.
First, we will complete all necessary asphalt repairs. This includes cracks and potholes and other vulnerable spots that we find. This repair work is always done with great care, using the highest quality products that are available. We follow a precise 10-step process for asphalt repair that includes measuring the affected area, cutting the asphalt, removing the damaged pieces, laying a new foundation, gravel, compacting, cleaning, applying a tack coating and then pouring hot asphalt down before our final compaction and inspection. We also recommend applying a professional sealcoating to the finished product to protect your repaired driveway from the same degradation process.
Minnesota Professional Residential Sealcoating
Seal King has been in the asphalt repair and professional sealcoating business for more than 15 years and we have grown significantly during this time. However, we always stay true to our core values of customer service, affordable pricing and high-quality product. We stand behind our work with our Seal King Promise. If some aspect of our work does not meet your satisfaction, give us a call and we will make it right.