Driveway Repair In Minnesota
Posted In: Asphalt Patch Repair
Published On: July 22 2021
Written By: Seal King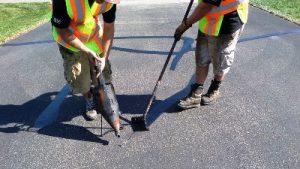 Your driveway is something you may not even think about or notice on a daily basis, but the fact is, it gets a lot of traffic. Your vehicle(s) drive on it daily and you may also park your car in your driveway. In addition, there is a significant amount of foot traffic each day. Over time, between this normal wear and tear and the impact of the elements (sun, rain, snow and ice), your driveway can become cracked, damaged, uneven, discolored and potentially unsafe. Seal King can complete repairs to your driveway and protect it from future issues.
High Quality Seal King Sealer
Seal King offers professional residential sealcoating services that are ideal for driveways and garage aprons. Our sealcoating services can protect your asphalt from the impact of the weather as well as the daily foot and vehicle traffic. We follow a very careful and precise process to ensure high quality work for each job we take on. This includes using a high-quality sealer product that is the best in the business. This is where many local companies cut corners, but not Seal King. This makes our sealer the best possible product for your asphalt. We take great care to custom blend our exclusive Seal King Sealer using the very best raw products, high performance additives, and special blackening agents to give you the strongest and long lasting final product. We go a step further than our competitors by adding hot water to our premium petroleum-based emulsion pavement sealer. This blends better with our select high performance polymer additives, Black Diamond Coal Slag, and Blackening agents to create the unique and high-quality Seal King Sealer.
Residential Sealcoating Services
Seal King also stands behind our work with the Seal King Promise, meaning that if you are not satisfied with the work we have done, contact us before the winter months and we will make it right! Your driveway is an important part of the exterior of your home. It is the entry point onto your property and is the area where you park cars, play with your kids and enjoy the outdoors. When it is not looking its best, it can impact the overall curb appeal of your home and a cracked or uneven driveway can cause guests or family members to trip and fall. For more information about our asphalt sealcoating services, find a Seal King near you!