Driveway Sealcoating Application Near Me
Posted In: Driveway Sealcoating
Published On: May 21 2021
Written By: Seal King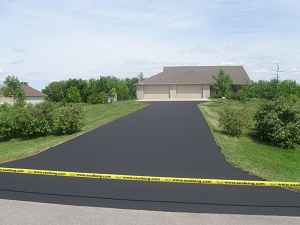 The American Dream may have changed a bit, but one aspect of it seems to be holding its own—the dream of owning a home. Owning a home remains a constant in our culture, and even if you are not motivated by appearances, there are still many reasons for wanting to make sure that every part of the exterior of your home looks its best. Your driveway is every bit as important to your home's exterior as a well-manicured lawn, perfectly trimmed bushes, and a good paint job. Your driveway is potentially more than just the location where you park your vehicles. It can also be the place where kids play basketball, hopscotch, and four-square. It can be where you teach your kids how to properly wash a vehicle, where you chat with your neighbors, or where you hold garage sales. In short, your driveway is an important social location for your overall property. Seal King offers professional sealcoating services to improve the look of your property and encourages the kinds of values that make your house and your property, a home.
Professional Sealcoating Services
Our process of repairing and resealing driveways is unique and unlike other competitive services. Seal King's staff have made themselves experts in all aspects of driveway repair and sealcoating. We begin with an assessment of the damage to your driveway. We use a power sweeper and blower process to clear debris from the surface. If your driveway has oil stains, we will treat them and remove them.
Next, we will seal all cracks with rubber sealant that is heated to 400 degrees, and we will then repair damage to the edges of your driveway surface with laser precision. If your driveway has been damaged by long-term exposure to the elements, and specifically if that damage has manifested in gouges, holes, or crevices, we will repair those damages as well. All of that work is done so that your driveway is properly prepped for the sealcoating process. Once we have determined that your driveway is adequately prepared, we will begin the process of sealcoating.
Sealcoating Application For Your Driveway
The application process is precise and exact, and we use high quality sealant that will protect your driveway for many years to come. We take pride in our work because we know you take pride in your home. And there you have it—a driveway that matches the beauty of your house. Contact your nearest Seal King franchise to schedule a time for our crew to provide you with our driveway sealcoating services.