Driveway Sealcoating Near Me
Posted In: Asphalt Maintenance
Published On: July 31 2018
Written By: Seal King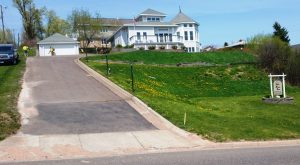 The hot summer months are the perfect time to bring in the experts from Seal King to professionally seal coat your driveway. Optimal conditions for when sealer is applied to the asphalt surface area should be warm and dry. A typical asphalt driveway in northern climates such as MN, WI and IA should be properly sealed every two to three years in order to protect the surface from the damaging effects of sun exposure, traffic, road salt and chemicals and of course the freeze/thaw cycle in spring and fall. The Seal King difference can be seen in the way that our technicians pay close attention to detail and provide professional sealcoating services. Our flawless 10 step process for residential sealcoating produces excellent results. Its easy to find a local Seal King Professional Sealcoating expert near you.  Look in the right hand corner of this website for"Find a Location Near You". It's that simple!
When Should You Seal Coat Your Driveway?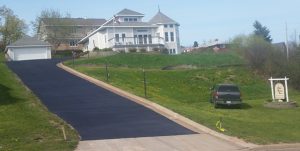 With each passing month your driveway can take a beating from harsh weather conditions and chemicals. Day to day traffic over the asphalt surface can result in a more brittle, worn out appearance with cracks and fissures. Many driveways require a good sealant about once every 2 to 3 years to maintain a newer appearance and texture. Look for the following signs that it is time to schedule an appointment with your local Seal King, residential sealcoating expert.
• Change in appearance, color and texture of blacktop surface
• Chemical stains from oil, gas, antifreeze or road salt
• Brittle surface texture
• Cracks, holes, divots or cuts in the asphalt
• When you can see the color of individual pebbles embedded in asphalt
What Does Sealcoating Do for a Driveway?
Sealcoating a driveway is a good way to protect the blacktop from the elements and provide a flawless appearance. A high quality driveway sealant can provide numerous benefits when the surface has been properly prepared and applied.
• Waterproofing
• Protect from harmful UV rays
• Fill in cracks and joints
• Provide a barrier of protection from chemical damage
• Correct surface texture issues
• Provide a deep black, smooth, flawless appearance
• Prevent water from penetrating deep into the layers of asphalt
What is the Best Temperature For Driveway Seal Coating?
Optimal conditions for asphalt driveway sealcoating tend to be when the daytime temperatures are in the 70s or 80s and nighttime temperatures stay above 50 degrees. Choosing a sunny, dry day with no rain, fog or high humidity in the 24 hour forecast would be just about perfect.
How Long Before You Can Driving on Sealed Driveway?
Seal King utilizes an exclusive hot mix sealer that is made of the highest quality raw materials and blackening agents. Our application process allows for individuals to walk on the freshly sealed surface in about 24 hours. You should wait up to 72 hours before driving over the seal coated driveway.
Residential Asphalt Sealcoating Expert Near Me
The professional sealcoating process and materials provided by Seal King technicians can result in the highest quality results at a very fair price. Our highly trained professionals provide excellent customer service along with a careful 10 step sealcoating process. Where can I find the highest quality sealcoating product and professional application near me? Contact the nearest residential asphalt sealcoating experts at Seal King today by looking in the right hand corner of this website for"Find a Location Near You". It's that simple!