Driveway Sealcoating
Posted In: Commercial Sealcoating
Published On: August 18 2017
Written By: Seal King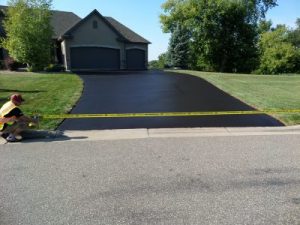 Driveway sealcoating is a great way to maintain the integrity of your asphalt driveway and keep it looking fresh for years to come. If you live in Minneapolis, MN and are looking for quality driveway sealcoating, the first and only place you should look is at Seal King Professional Sealcoating.
Sealcoating Benefits
When you choose to apply quality sealcoating to your driveway, you are getting more than an extra layer of protection. No matter how nice your driveway may be, all asphalt is vastly affected by weather, sunlight, and the general traffic. When we apply our sealcoating application, we are helping to prevent those elements from breaking your asphalt down. We prevent your asphalt from becoming brittle and easier to crack. Without quality sealcoating, you can expect your driveway to age fast, change in color, and turn into a very brittle texture. Avoid this by simply calling Seal King Professional Sealcoating for your sealcoating services today.
Sealcoating Process
It's important to understand that not all sealcoating companies are created equal. You have to be vigilant and aware of companies offering lower grade products and subpar standards. Don't fall for the BOGO deal or coupon clipper sealcoating. These deals will not yield you the results that you desire. The best way to get quality sealcoating results is by going through a quality company that offers services at quality prices, Seal King Professional Sealcoating. Our goal is to always deliver lasting results that completely satisfy our customers. This is why all of our projects are done by our "no fail" ten step by step process. From power edging to barricading the driveway, we complete every step thoroughly so that your driveway is sealed effectively and appropriately.
Seal King Promise
We are so confident in our step by step driveway sealcoating that we will do everything we can to make sure that you are 100% satisfied. We promise to provide our customers with the most professional and environmentally friendly products on the market. If any of our customers are not 100% satisfied, all they have to do is contact us before the winter and we will work to resolve the issue right away.
If you are looking for effective and affordable driveway sealcoating in Minneapolis, don't waste another second while your asphalt is outside breaking down. If you want quality and professional sealcoating every single time, call Seal King Professional Sealcoating today at (612) 598-3511.