Duluth Sealcoating Contractor
Posted In: Asphalt Repairs
Published On: May 15 2019
Written By: Seal Coating Team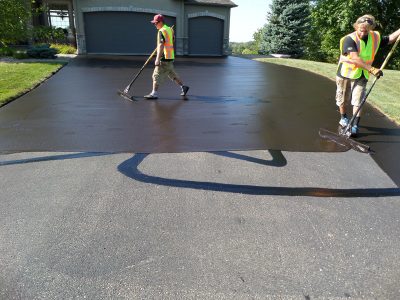 At Seal King Professional Sealcoating, we aren't going to lie. It's been brought to our attention that kids just don't care for us. Sure, we can make their driveway nice and smooth for their bike riding and basketball hooping, but at the end of the day, they hate that they can't ride down that old, bumpy road anymore. That's right. As a Duluth sealcoating contractor at Seal King Professional Sealcoating, we turn your bumpy road in Duluth, MN into a smooth ride for anyone that has wheels.
Seal King Asphalt Repairs
Whether you are a residential or commercial property owners, having our number on hand is crucial for anyone that has asphalt. At Seal King Professional Sealcoating, we can take even the bumpiest of roads and restore them to their once glossy and smooth condition. Asphalt repair is like second nature to our professionals. We will come out and assess your cracks, potholes and any other vulnerable issues that may cause problems for you down the road (pun intended). We will then work to repair all of these issues with the latest technology and the most high-quality materials on the market. Repairing the damage sooner than later is always recommended as it will prevent further damage from being done.
Sealcoating
Once your asphalt is repaired, Seal King Professional Sealcoating aims to keep it that way. Sealcoating is a process in which we use a sealant to keep your asphalt protected from the Duluth, MN elements that inevitably come throughout the year. The sun, the rain, gas, oil, chemicals and everyday wear and tear can really break the integrity of asphalt down. Our sealcoating solution gives your asphalt that added layer of protection from the elements and the smooth, aesthetic look of brand new asphalt. Don't be fooled by companies that advertise sealcoating with no real references to back it up. The Seal King Professional Sealcoating team in Duluth has over 28 years of providing quality, professional sealcoating to the area. Our sealant is carefully mixed together with state-of-the-art technology so that every sealing we do is done with fresh, high quality product. No step is ever missed with our sealing process and satisfaction is guaranteed. We are so confident in our services that we offer to stand by the Seal King Promise. If you are not 100% satisfied with your services, call us before winter and we will work with you to resolve the issue until you are 100% satisfied.
If you are looking for a sealcoating contractor in Duluth, MN, look no further than our professionals here at Seal King Professional Sealcoating. Whether you are looking for a sealant or a repair, our team of experts has you covered. Call our office today at (715) 635-6056 and request a free quote!