Experienced Sealcoating Professionals in MN
Posted In: Commercial Sealcoating
Published On: January 06 2021
Written By: Seal King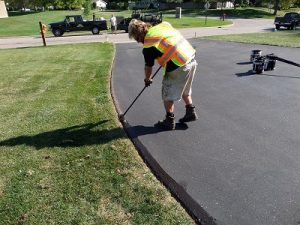 Experience is one of the most important characteristics of a successful business. This is especially true in the sealcoating industry. There are plenty of sealcoating companies that consider themselves experts, but they've only been working in the industry for a few short years. At Seal King Professional Sealcoating, we've been providing affordable asphalt repairs and sealcoating applications dating back to 1991. Our experience, plus many other beneficial factors, make us the best sealcoating partner in MN.
With every sealcoating project that we take on across MN, we utilize the best sealcoating products on the market. Whether you own a commercial or residential property in need of asphalt rejuvenation, we've got you covered. Everyone knows how tough mother nature can be to the MN region, so it's critical that your sealcoating application can hold up well to weathering. For this very reason, we use premium petroleum-based emulsion pavement sealers that have high performance polymer additives and Black Diamond Coal Slag. These materials allow your driveway or parking lot to stand up strong against the extreme climate temperatures and conditions across MN. If you're in need of asphalt repairs, the hot rubber material used as crack fillers is wonderful at preventing water from penetrating the asphalt.
Quality Checklist
Thanks to the many decades of experience that we bring to the table, our team has been able to develop a proven quality checklist for both our residential and commercial sealcoating projects. Every project that we complete goes through this checklist to ensure that all of our clients are receiving the best service and high quality work possible. Many other sealcoating companies in MN try to mimic our quality checklist, but it simply cannot be duplicated by anyone else.
Affordable Alternative to Asphalt Replacement
One of the ways that we make our clients most happy is our affordable prices. When you compare our residential or commercial sealcoating prices to the cost of asphalt replacement, you'll be thrilled by the amount of savings that we can provide. At just a fraction of the cost of asphalt replacement, our team will still be able to protect and revitalize the look of your asphalt. There's no hidden charges with our pricing. What you see is what you get.
So, if you are interested in providing your parking lot or driveway an affordable facelift, finding the right team to complete the job is critical. At Seal King Professional Sealcoating, we are the experienced sealcoating professionals for the job. To find a Seal King location nearest you, visit www.sealking.com.