Extending The Life Of Your Commercial Asphalt
Posted In: Commercial Asphalt Sealcoating Services
Published On: November 01 2021
Written By: Seal King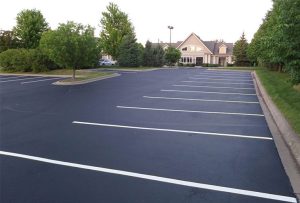 As a commercial property owner, you are always looking for ways to ensure that your property maintains its look. When you are able to achieve this affordably, you feel even more accomplished. If your next project is addressing the asphalt on your commercial property in Minnesota, our team at Seal King Professional Sealcoating is here to help. Through our affordable commercial sealcoating services, we're able to revamp the look of your commercial asphalt while also extending the life of the asphalt as well.
Has your commercial parking lot or driveway worn down over the years? Does it look faded and are you left dealing with cracks and potholes? Minnesota weather can definitely be tough on asphalt over time. So can vehicle traffic, oxidation, oil spills, etc. The good news is that you are able to achieve asphalt rejuvenation by committing to our commercial asphalt sealcoating services that are offered at an affordable price. Our sealcoating services provide a wide variety of benefits that will add value to your commercial property. These benefits include the following:
● Extended Life Expectancy of Asphalt
● Slowing Down Oxidation
● Resisting Weathering
● Fights Against Oil and Gas Spills
● Boost in Curb Appeal
● Slip Resistant
Step By Step Commercial Sealcoating
The results of our commercial sealcoating services are always the same with every project that we take on. The reason for this is because each commercial sealcoating project that we take on goes through the same 8-step process that has proven to be effective countless times. So many of our competitors just try to get the project done as quickly as possible so that they can move on to the next project. Our team, however, takes the time necessary to ensure that every step of our commercial sealcoating process is applied and that no corners are ever turned by our staff. Not only is our process effective, but so are our materials. We use the best sealcoating materials available so that your application will last as long as possible.
Taking care of your commercial property is very important and that even includes your driveway or parking lot. If you are looking to get a fresh look, while also protecting and extending the life of your commercial asphalt, our team at Seal King Professional Sealcoating is just the partner for you. To find a Seal King location in Minnesota nearest you, visit www.sealking.com today.