Fall Sealcoating | MN | WI
Posted In: Commercial Sealcoating
Published On: October 10 2018
Written By: Seal King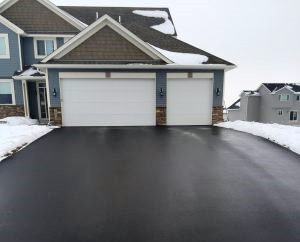 Looking to protect your driveway or parking lot this fall so that it is protected and ready for the tough winter weather that will be here soon? At Seal King Professional Sealcoating, we are thrilled to offer fall sealcoating services. There's no better time than now to invest in your driveway or parking lot so that it can withstand whatever mother nature throws our way during winter and beyond.
If you're not familiar with the sealcoating process, this is an affordable way to add protection to your asphalt, while also boosting the overall look of your parking lot or driveway as well. At Seal King Professional Sealcoating, we offer sealcoating applications for both residential and commercial properties. The best thing about our reliable sealcoating application is that it is only a fraction of the cost of concrete replacement.
Sealcoating during the Fall
When it comes to your sealcoating application, it is important to get this project done before the winter. The fall season is an ideal time to get this service completed so that your asphalt is well protected against the winter weather that regularly hits this region of the country. While the temperature is pleasant and there is no winter weather to worry about, it's time to get in on our sealcoating application this fall.
Benefits of Sealcoating
Professional sealcoating services offer far more benefits than just a cheaper price tag. Professional sealcoating can also help your parking lot or driveway when it comes to weathering, oxidation, gas or oil spills, etc. Additionally, our top of the line sealcoating application provides slip resistance and can quickly revitalize the overall curb appeal of your residential or commercial property. Thanks to more than 25 years of sealcoating experience and utilizing the highest quality sealcoating materials on every project that we take on, you'll be sure to get your money's worth with this property investment.
Rather than spending tons of money to replace your driveway or parking lot concrete, why not try a more affordable alternative. Fall sealcoating is the perfect investment to help strengthen your existing concrete. By teaming up with Seal King Professional Sealcoating for your fall sealcoating needs, the asphalt on your property will be well prepared for the winter weather that is ahead. To learn more about the sealcoating process or to schedule your fall sealcoating service before winter hits, just look in the right hand corner of this website for "Find a Location Near You". It's that simple!