Fall Sealcoating Services Wisconsin
Posted In: Asphalt Sealcoating
Published On: September 20 2018
Written By: Seal King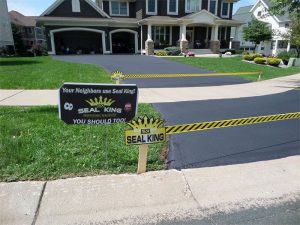 It's that time of the year again in Wisconsin where we enjoy our football, and then we get to work on prepping for a long and cold winter. Whether you are sipping on your favorite pumpkin spiced beverage, or making your to-do list for this fall, don't forget to include calling Seal King Professional Sealcoating for our fall sealcoating services. Believe us when we say that your asphalt will thank you for it next year.
Why is Fall Sealcoating Important?
First of all, we believe that before you commit to doing anything, you should have a good understanding of what it is. Sealcoating is a process that helps your asphalt maintain its integrity all throughout the year. We've all seen ugly, old asphalt. No matter how you swing it, asphalt eventually will age, changing in color, texture and integrity. However, sealcoating services dramatically reduce the rate at which that happens. Our goal at Seal King is to extend the life of your asphalt by slowing down its oxidation. We do this by providing a quality layer of sealant that protects your asphalt against weathering, gas spills, oil spills, etc., and keeps your asphalt looking fresh and new. Why is fall sealcoating so important? Giving your asphalt an added layer of protection before the Wisconsin winter season begins can be crucial to the life of your walkway, driveway, or parking lot. Think about all of the elements it endures, from snow scrapers to all different types of precipitation. Protecting your asphalt with sealcoating is essential for your driveway withstanding the winter weather.
Higher Quality Sealer & More Experienced Professionals
So how do you go about choosing a sealcoating company? In the world of sealcoating, not all sealants are created equal. At Seal King, we pride ourselves in providing a higher quality product and much more efficient, professional services. For over 25 years, we have served Wisconsin, keeping all different types of property owners with asphalt satisfied for years. All of our mixing is done in a climate-controlled facility, ensuring you get a fresh product every time.  Our services are always done using a 10-point quality checklist, never missing a step and always covering our bases. Best of all, our services are backed by the Seal King Promise. If you are not 100% satisfied, contact us before the winter season and we will work to correct the issue!
If you are searching for fall sealcoating services, look no further than your experts here at Seal King Professional Sealcoating. For more information, or to find your Wisconsin location, visit us online today at www.sealking.com.