Garage Apron Repair To Protect Your Entire Driveway
Posted In: Apron Repair
Published On: May 05 2022
Written By: Seal King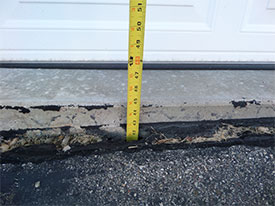 Have you noticed that your driveway has started to sink directly in front of your garage? This is a very common problem for a couple of potential reasons. It is possible that when your house was built, your footings were installed 48 inches below the surface and gravel was installed in that space. Over time, the gravel can settle and cause your driveway to sink down and separate from the garage. Another potential reason is that the seam between the garage door apron and the driveway was not sealed correctly, which allowed water below the asphalt causing it to settle and sink downward. Regardless of the reason, if this is happening on your property, it is best to have it repaired by a professional. Seal King specializes in garage apron repair.
Garage Apron Repair Process
Garage apron repair is a perfect spring project to get the exterior of your home looking its best. Seal King has developed a 9-step process to repair a sunken apron. First, we take precise measurements and use an asphalt saw to cut along our pre-measured lines and carefully remove the damaged asphalt next to your garage. Then, we completely fill all foundation holes and use gravel to compact the area. We use a Class V base gravel to fill in the rest of the area that has been cut out. Next, we apply hot asphalt to the cut-out area and level it to the height of your garage. We then use plate compactors and asphalt rollers to compact the area and make it look professional and smooth. Finally, we clean the entire area and block it off for 24-36 hours so that it can dry thoroughly.
Asphalt driveways And Garage Aprons Are Subject To The Harsh Elements
Your asphalt driveway and garage apron are subject to the harsh elements of the Midwest and it is important to repair your garage apron if it sinks, in order to protect the life of your entire driveway. The cracks and damage can begin at the garage apron and spread throughout the entire driveway. As long as you are able to keep your apron in good condition with an initial repair and then frequent sealcoating services, you will extend the life of your driveway. Seal King can help you manage this with high quality, affordable sealcoating services all over the Minnesota, Iowa and Wisconsin area. For more information about garage apron repair or our professional sealcoating services, reach out to any one of our convenient Seal King locations near you.