High Quality Asphalt Sealant
Posted In: Asphalt Maintenance
Published On: August 30 2021
Written By: Seal King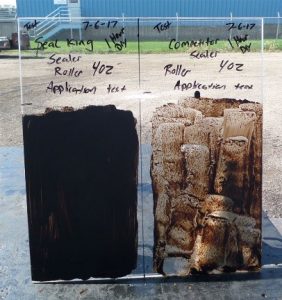 When it's time to get your driveway or asphalt sealcoating, it's important to know that not all sealcoating brands are the same. In fact, there are incredible differences in companies depending on both the product and the quality of service. At Seal King Professional Sealcoating, we are at the peak of that difference. Utilizing the most skilled professionals and the very best sealer in the industry, our professional sealcoating far exceeds any competition. While we execute our job extremely well on every site we go to, the work doesn't just begin there. Much of the work is done before we ever arrive, preparing our high-quality asphalt sealant in our own building.
In order to make a big difference in our results, we take the prep work and the mixing of materials seriously. Our company only uses the very best raw products, high performance additives and special blackening agents to keep your asphalt looking fresh and new. Not only do we use the best products on the market, we also use the best method. At Seal King, we are known as the pioneers in the sealcoating industry. We are always on the hunt for new products and new techniques so that we can assure our customers that we are the best sealers in the industry.
Hot Mixing Asphalt Sealant
Due to our research, our company discovered that a simple mixing of ingredients was just not enough. When we receive our concentrated sealer, we don't just add water, additives, blackening agents and then call it a day. Instead, we approach our mixing methods carefully. Seal King's "Hot Mix Sealer" method is a process in which we heat up our water before we blend. Heating our water anywhere from 110-130 degrees allows it to mix tremendously well with our high performance polymer additives, Black Diamond Coal Slag and the Blackening agents. Thus, creating the exclusive Seal King Sealer. This is done utilizing our commercial mixing tanks that precisely blend our ingredients at a controlled speed.
Once the sealant is mixed, we take it to the job site, ready to properly seal coat your asphalt and make it look brand new. With 6,000 gallons of raw sealer pumping into a 1000-gallon full sweep agitator tank, and a climate-controlled warehouse to keep each and every ingredient safe, there has never been a higher quality sealant on the market. For more information about our services and our high-quality sealant here at Seal King, give us a call today. Contact Seal King Professional Sealcoating at our Minneapolis, MN location today at (952) 469-6639.