High Quality Asphalt Services
Posted In: Asphalt Maintenance
Published On: December 20 2021
Written By: Seal King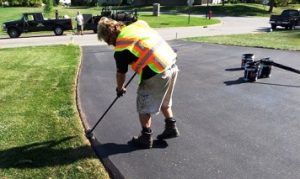 You may not think much about the asphalt in front of your home or business. It becomes a part of the landscape and is very easy to overlook, until there is a problem. The truth is, asphalt takes quite a beating over time from the intense rays of the sun and the moisture from rain, snow and ice. Asphalt is exposed to the elements 24 hours a day, 7 days a week, and 365 days a year. You may not even know who to call when you notice a problem with your asphalt. Seal King is here to help. We understand that your asphalt may not be your top priority, but it is ours! We can help repair any damage and then protect it from potential future degradation and other problems.
Professional Residential And Commercial Sealcoating Services
Seal King offers a wide variety of high-quality asphalt surfaces depending on your specific needs. We complete sealcoating on residential and commercial driveways and sidewalks, and we can also repair garage aprons. We can repair all types of cracks, holes and changes to texture and then apply a high-quality sealer to protect the area from future wear and tear. Sealcoating is an affordable way to keep your home or business looking its best and free from safety hazards. Professional sealcoating can extend the life of your asphalt and protect it from the extremely harsh weather that we tend to experience in this area.
Why Choose Seal King?
We understand that you have choices when it comes to asphalt repair services, so we work hard to set ourselves apart from the local competition. First of all, we have many Seal King locations all over the Minnesota, Wisconsin and Iowa area, so you will have no trouble finding a location near you. In addition, we use a high-quality product and efficient and thorough techniques. Our staff never cuts corners and follows a consistent 10 step process to ensure the best possible outcome. When we are finished, we clean up the area and make you the Seal King Promise. That means that if you are not satisfied with our work for any reason, we will make it right. So, when you are thinking about ways to improve the curb appeal of your home or business, or if you want to repair the cracks in your asphalt, reach out to your local Seal King!