High Quality Pavement Sealing Material
Posted In: Asphalt Sealcoating
Published On: May 12 2022
Written By: Seal King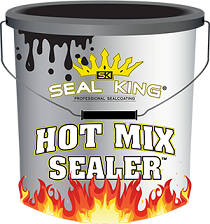 You have many choices when it comes to hiring a professional sealcoating company to repair and protect the asphalt surfaces around your home or your business. You will see companies offering you the best possible price – sometimes even a deal that sounds just a little too good to be true. These companies tend to rush through their jobs, without paying attention to every detail and, as a result, the sealcoating job is sloppy and may not last. Seal King is different from these other companies. While we may not offer you the bottom of the barrel price, you will find that our prices are still very affordable, and you get a lot more for your money when you partner with us.
Importance Of Using Highest Quality Sealants
First, we use only the highest quality sealing material for every job we perform. We custom blend our own Seal King sealer using the best raw products on the market along with high quality additives and special blackening agents. We blend these materials together carefully using state of the art hot mixing equipment and pumps. This gives us a precise and perfect mixture each and every time. Our staff spends a significant amount of time on this preparing and mixing process which translates into a better product for you. We use what is called a hot mixing process which allows for much better blending. This means that when we apply the seal king sealer, it is made to adhere better to the asphalt and will last for many years.
Professional Sealcoating Services
Our customers benefit from our consistent and thorough process. When you work with the staff at Seal King, you will find that we know what we are doing, we can answer questions about the process, and we will work quickly and carefully to provide professional sealcoating services for residential and commercial asphalt all over the area. The results are visible. You will be able to literally see the difference. We believe if you want to invest in professional sealcoating, you should get a finished product that is worth that investment. We do not make promises that we cannot keep. We are honest about our work, our prices and our timelines. Our professional sealcoating services will protect your asphalt from wear and tear, from discoloration, cracks and holes. It will leave your property looking its very best.
There are Seal Kings all over the Minnesota, Wisconsin and Iowa area. Look for a convenient location near you!