High Quality Sealcoating Services Near You
Posted In: Driveway Sealcoating
Published On: May 11 2021
Written By: Seal King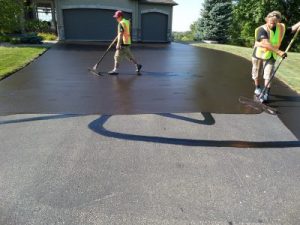 Seal King started out just like many local small businesses. Ben Nelson, the current CEO, started this sealcoating business in Lakeville, Minnesota, and within the first 5 years sold the very first franchise. This was the beginning – a small company, focused on providing customers high quality sealcoating services to protect their residential asphalt driveways. Even as we have grown, we have not lost our focus. We believe that the reason we have been able to continue to grow and be successful is because of our wonderful and loyal customers.
Experienced Professional Sealcoating Company
Each of our many franchises is asked to adhere to the same philosophy – it's called the Seal King Promise. That means that we stand behind our work, whether you hire us in Albany, MN, Central City, IA, Elmwood, WI or Lakeville where it all began. We use a higher quality sealcoating product than many of our local competitors, which means that it lasts longer and prevents cracks and potholes in your driveway and sidewalks for many years. Our staff also pays close attention to detail and follows our very careful 10-step sealcoating process. This includes:
1. Power Edging
2. Power Edge Cleaning
3. Power Sweeping and Blowing
4. Treating oil spots on the asphalt
5. 400 degree joint filling
6. 400 degree rubber crack filling
7. Driveway edging brush
8. Applying the professional Seal King sealer
9. Brush application
10. Barricading driveway so that it can dry
We offer competitive pricing on our professional sealcoating services, but it is also important to know that you get even more when you work with us. We do not cut corners, we always clean up after our work, and we make sure that our customers are satisfied after the job is complete. If you are not fully satisfied, you can contact us before the end of the season and we will fix the issue for free, no questions asked! No other company can make you that promise. Many local companies may boast of lower prices, but make sure that you are sure of exactly what you get!
Professional Sealcoating Company Near Me
In addition to residential sealcoating services, Seal King also offers commercial sealcoating as well as garage apron repair. We can help you make sure that the surfaces outside of your home or business look good, are safe and protected from the harsh elements of the Midwest. With well over 200 locations across Minnesota, Wisconsin and Iowa, you will have no trouble finding a Seal King near you!