Highest Quality Sealer For Commercial And Residential Sealcoating
Posted In: Seal Coating
Published On: July 29 2021
Written By: Seal King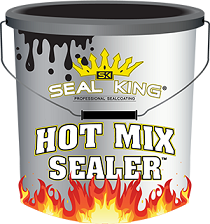 Our team at Seal King is often asked what sets us apart from other local companies that offer commercial and residential sealcoating services. One of the biggest differences is the sealer that we use for our customers. We use the highest quality sealcoating raw materials and high performance additives as well as special blackening agents to develop the perfect blend of sealer that will function well for an extended period of time. Seal King will NEVER cut corners when it comes to our commitment to our work and the products that we use. We have built this business from the ground up and this commitment has ensured our continued success.
Highest Quality Sealcoating Product
Our "Hot Mix Sealer" is a better quality product than the competition. We mix water into the thick raw form ourselves. We heat the water we add all the way up to 110-130 degrees, much higher than most of our competitors. Adding higher temperature water allows our raw product to blend better with the additives we use, including high performance polymer additives, Black Diamond Coal Slag, and Blackening agents to create our exclusive Seal King sealer. We take great care in the mixing process so that the final product that we use on your asphalt is the highest possible quality. The results speak for themselves!
We also follow a 10-step process for applying the sealer on your asphalt surface so that you can be confident that the process will be done correctly by our staff. Sealcoating can protect your driveway and other asphalt services from high foot and vehicle traffic as well as damage from the elements like rain, snow, and even sunlight. Sealcoating prevents cracks, discoloration and potholes and leaves you with a smooth surface that gives an excellent first impression to your guests. Sealcoating prevents moisture from being absorbed by your asphalt over time. This is what causes the problems that make asphalt unsafe for driving and walking and make it unsightly.
Professional Residential And Commercial Sealcoating Services
Using the highest quality products, treating our customers well and paying attention to detail are three of the things that set our company apart from the competition. We also stand behind our work and if you have concerns about our final product, we will make it right. There are locations all over the Minnesota, Iowa and Wisconsin area, so you do not have to go far to find a Seal King near you.