How Weather Plays A Role In Sealcoating
Posted In: Seal Coating
Published On: January 13 2023
Written By: Seal King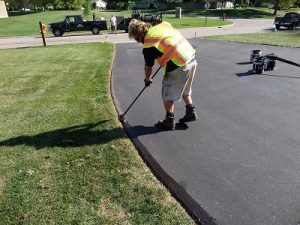 It would be ideal if sealcoating a driveway or parking lot could be done regardless of the weather, but such is not the case. While the weather doesn't have to be perfect, there are certain conditions that must be met for the sealcoating process to be as successful as possible.
Temperatures: For sealcoat applications to be effective, the outside air temperature should be at least 50oF or more for a period of at least 24-hours. This is to ensure that the ground temperatures are high enough to allow the sealer materials to adhere to the surface of the asphalt. If these conditions are not met, the sealcoat can still be applied, but the adhesion will not be 100% and you will likely still be facing issues with the condition of your underlying asphalt, in time.
Rain/Precipitation: Sealcoating cannot be applied if the surface of the asphalt is wet. This is again due to the proper adhesion of sealcoat to the surface of the asphalt. If it has recently rained, or there is rain in the forecast, it is not wise to attempt to apply sealcoating. Following application of the coating, the surface cannot get wet for at least a day or so to allow the sealcoating to fully cure.
High humidity: Like having rain or other precipitation in the mix, applying on a day when there is high humidity or low clouds/fog. These elements all bring moisture which can affect the adhesion rate and the length of time it takes for the sealcoat to dry and cure. The drier the air, the better.
Allowing the professionals to make the call: It may be tempting, during seasons of shaky weather, to attempt to apply the sealcoating yourself. Rather than spending the time to secure all the materials and tools to do the project yourself, all to have a sealcoating that is not properly bonding to the surface of the asphalt, allow a team of professionals with the expertise to get the job done for you properly, the first time. If the weather is not ideal, allow the professionals to make that call and postpone or reschedule the sealcoating.
Professional sealcoating Services In Minnesota And Iowa
Regardless of what Mother Nature has in store for us this season, the team at Seal King has the expertise to forecast the best time to get your project done. With Seal King locations all over the state of Minnesota and Iowa, there is a location that is near you! Contact us today!