Importance of Maintaining Your Driveway
Posted In: Asphalt Maintenance
Published On: October 05 2018
Written By: Seal King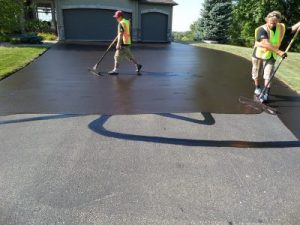 Do you have an asphalt driveway that's really beginning to show its age? If so, you likely are looking into ways to bring it back to its original luster. Thankfully the asphalt professionals at Seal King are up to the task. We offer a wide array of sealcoating services that can not only restore your driveway to the condition it was in when the asphalt was actually poured, but also allows you to protect your driveway for years to come. Asphalt maintenance is critical to ensuring your driveway will stand up to the rigors of our Minnesota and Wisconsin weather. Additionally, properly maintaining your driveway allows you to protect the investment that you made years ago when you purchased your home. Asphalt driveways can last decades if properly maintained.
Why is Maintaining Your Asphalt Driveway so Important?
While you may not think about your driveway that often, it is an integral part of your home. If your driveway is cracking and looks unsightly it can affect the overall curb appeal of your entire home. Don't make your driveway an eyesore when properly maintaining it doesn't have to be that difficult.
Below are a few steps you can take to protect your driveway and ensure it will be around for many years to come. Remember repaving your entire driveway is incredibly expensive, so be sure to do all you can to ensure your current driveway will last for many years.
Importance of Maintaining Your Driveway
At Seal King we're huge proponents of sealcoating as a way to protect and preserve your asphalt driveway. Below is the intricate process we take with each driveway project that we complete:
• Power Edging – This process allows us to adequately prep the asphalt before any work is started. This allows all of the grass to be removed that's encroaching on your asphalt.
• Power Sweeping & Blowing – We utilize a special machine with a rotating brush and blower to scrub and clear any additional debris that's on your driveway so that our sealant will properly adhere to your asphalt.
• Oil Spot Treatment – Next we use a product that helps to remove any oil spots that are present.
• Rubber Crack Filling – Using our crack filler, that's melted on site, we fill any cracks or joints to protect the base layer of your driveway.
• Driveway Edging – We painstakingly apply our sealant to all of the edges of your driveway to ensure that no brush marks are present.
• High Quality Seal King Sealer – Our sealer is typically mixed in large 600 gallon tanks to ensure consistency.
• Expert Application – We use a brush to apply the sealer and start at the top of your driveway so that the entire application is seamless and looks perfect when we're complete.
• Blow off Driveway – Once we're complete we'll block off your driveway to ensure it has ample time to dry.
If your driveway hasn't been properly maintained, there's still time to use our sealcoating services to restore its original look. To contact the pros at Seal King for residential and commercial asphalt seal coating application and repair services just look in the right hand corner of this website for "Find a Location Near You". It's that simple!