Invest In The Exterior Of Your Small Business
Posted In: Commercial Sealcoating
Published On: July 29 2022
Written By: Seal King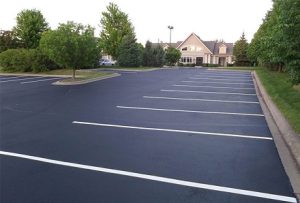 Business owners are always trying to find ways to ensure that their businesses thrive. Those in downtown locations will spend money to dress up their windows to attract customers. The money that business owners spend on these efforts are seen as investments in their own success and longevity. Ideas that draw customers in must be matched by products and/or services that entice customers to make purchases. Very successful businesses also consider the attractiveness and safety of the areas connected to their physical business space, namely their parking lots. Seal King is in the business of helping business owners grab the attention of potential customers by making their exterior presentation to customers more appealing.
Benefits Of Improved Curb Appeal
If you own a business with a parking area, you are actually communicating with potential customers just by the way your exterior is presented. A parking area that is damaged and unappealing can detract from the effort made by the business to draw customers in. You may have products that customers love, and you may have an extensive list of customers who are loyal to you. However, not many customers will enjoy visiting your business if they also have to dodge potholes and risk spraining their ankles because the parking surface is cracked and pitted. Customers respond positively to businesses that not only offer products that are appealing, but also put effort into making the overall shopping experience pleasant. A resurfaced parking lot can be one of those investments that pays off for your business.
Seal King offers professional sealcoating services for just about any asphalt surface. You do not need to have a large parking lot to use our services. In fact, if you have a small parking footprint, it is more likely that your business is the only one, or one of a small number of businesses, impacted by the parking surface. Our sealcoating services can help your small business in a significant way.
Professional Sealcoating Services For Your Business
The quality of our work is our best calling card. We have been in business longer than most other sealcoating services because we never cut corners and we always provide excellent customer service. By focusing first on preparing your parking surface, the sealcoating material sets better and cures better, creating a strong and durable surface that will stand up to the heaviest vehicles and frequent traffic. Contact one of the many Seal King locations near you for more information.