Local Asphalt Repair Services
Posted In: Asphalt Patch Repair
Published On: September 22 2021
Written By: Seal King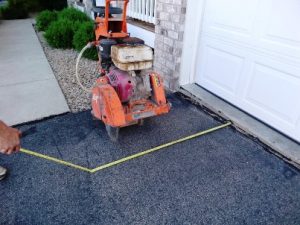 The asphalt on your driveway, sidewalk or in a parking lot takes a beating each and every day. Foot traffic, vehicle traffic, sunlight, rain, snow and ice can deteriorate the area and make them less safe and unsightly. You may not think about your asphalt driveway, sidewalk or parking lot each and every day when you walk outside, but over time, you may start to notice discoloration, cracks, or even larger potholes. This is normal wear and tear for untreated asphalt. Rather than watch these cracks get larger and the asphalt deteriorate, you can act now to repair the area so that larger problems do not surface. Seal King is a professional sealcoating company that also completes asphalt driveway and parking lot repair services. A small investment now can prevent a larger investment down the road.
Seal King can complete all types of asphalt repair including:
● Crack sealing will prevent the smaller cracks from becoming larger over time. Seal King uses high quality sealer to seal these cracks so that the cracks do not grow, and the area is protected.
● Asphalt patching can help if the cracks in your asphalt have gotten larger and you need portions of your asphalt replaced. Asphalt patching is a process in which the damaged area is cut out and disposed of and new asphalt is installed.
● Asphalt overlay: This process lays a new layer of asphalt over an older asphalt surface. The old layer is used as a base for the new surface.
Thorough Asphalt Repair Process
The Seal King team takes great pride in our work and always follows a careful and thorough process for asphalt repair and sealcoating so that we can give our customers the best possible results. Here is the 10-step process for asphalt repair that we follow:
1. Measure the affected area
2. Cut the asphalt to the appropriate size
3. Remove old asphalt
4. Prepare a foundation for new asphalt
5. Pour new gravel
6. Complete compaction
7. Clean the area
8. Apply the tack coat
9. Apply hot asphalt
10. Complete the final compaction and inspect area
Now is a great time to complete asphalt repairs, before the winter months arrive and further damage the area you are concerned about. Seal King has locations all over the Minnesota, Wisconsin and Iowa area and we would be honored to help you. All of our locations are committed to top-notch customer service and high-quality work, so we guarantee your full satisfaction!