Local Pothole Repair Contractors
Posted In: Apron Repair
Published On: September 11 2022
Written By: Seal King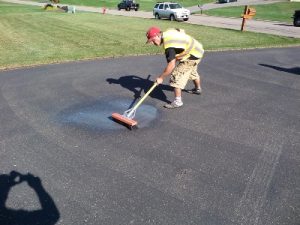 We've all driven over a pothole. Potholes are not only obnoxious and frustrating, but they can also cause some real damage to your customers' vehicles. Do you foresee your customers continuing to come visit your property when they risk ruining their vehicle every time they drive up? Additionally, there's never a scenario where potholes get better. Until they are repaired, potholes will only get larger, more obnoxious and definitely more costly. Winter is coming soon so now is the time to repair them.
Repairs To Asphalt Cracks
You may think that those small cracks around the parking lot aren't much to worry about. Over time, even the best laid asphalt sees cracks, due in part to typical Minnesota weather and regular wear and tear from vehicles. Seal King offers affordable and effective repair work to the asphalt's surface that helps prevent water and dirt from seeping down into the base layers of the asphalt. This type of proactive repair work can help reduce the likelihood of bigger problems down the road in the parking lot.
Increased Curb Appeal
When visitors come to your home or property, you want them to feel instantly welcome. If your driveway is riddled with potholes, literally the first thing your visitors will be thinking is how to navigate your minefield of a parking lot. This is likely not the type of impression you want to leave on visitors. Repairing potholes in your parking lot can ensure visitors are able to appreciate the beauty of your property and not look down at the holes they're having to constantly dodge in the form of potholes.
Pothole Repair And Asphalt Restoration
No matter if you are a residential or commercial property, Seal King will use the highest performing products for your pothole repair. All our products are stored in a climate-controlled facility so that they can be applied fresh to the site and sealed in your pothole completely. To ensure that we never miss a step, our team of professionals follow a step-by-step procedure for pothole repairs that covers everything from measuring the site to the final application at the end. We never miss a step so that your Minnesota asphalt parking lots and driveways always look pristine.
Professional Garage Apron Repairs
Are you experiencing apron sinkage? The asphalt experts at Seal King are proven garage apron repair specialists. The team has developed a nine-step apron repair process that will get your damaged apron repaired affordably and in a timely manner.
For more information about our pothole repair services in Minnesota, don't hesitate to give us a call today. Call your local Minnesota asphalt parking lot and driveway repair experts at Seal King Professional Sealcoating today at (952) 469-6639 or find a Seal King location nearest you online at www.sealking.com.