Minnesota Sealcoating Services
Posted In: Commercial Sealcoating
Published On: July 01 2021
Written By: Seal King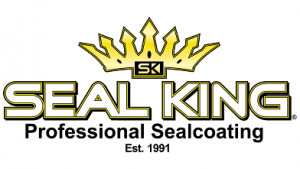 Are you looking for a reliable, affordable, and professional sealcoating company in Minnesota? Look no further than Seal King. We have Seal King locations all over the state – including Anoka, Apple Valley, Blaine, Chanhassen, Golden Valley, Ham Lake, Minneapolis, Oak Grove, St. Paul and many other convenient locations scattered across the state. Sealcoating is important in Minnesota because the asphalt takes quite a beating throughout the year. Sealcoating provides a critical protective layer on your driveway, parking lot or garage apron to prevent cracks, holes, and discoloration.
Even though we have many different locations all over the state, there are several things about our mission that spans across each and every Seal King Franchise.
1. Seal King Promise: We provide the best possible customer service in the business. We promise a fair price, prompt and professional service and we stand behind our work. If you have a concern about our work, contact us before the winter season and we will make it right. Our staff will always be professional, prompt, happy to answer questions and responsive to your needs.
2. High quality sealcoating product: Seal King does not cut corners, and this starts with our choice of sealant. We use only the best raw products with high performance additives and blackening agents. The sealant is blended perfectly to create a perfect mix. We take special care with our sealant so that it will last as long as possible on your asphalt. This ensures that your driveway or other asphalt surface will be protected from the elements for many years to come.
3. 10 step sealcoating process: Our performance is also very consistent, so you can be confident about the final product. For driveways, we follow a 10-step process that includes power edging, power edge cleaning, power sweeping and blowing, oil spot treatment, rubber crack filling, joint filling, driveway edging brush, sealer application, brush application and then driveway barricade. This process ensures that the sealant is applied to a clean surface and maximizes the benefits of sealcoating.
Residential And Commercial Sealcoating Services
We complete full-service sealcoating services for both residential and commercial properties all over the Minnesota area. If you have noticed discoloration, cracks or holes in your driveway, parking lot or sidewalk, a sealcoating treatment could be ideal for you. Sealcoating protects asphalt from the normal wear and tear of driving, but also from the harsh Minnesota elements. Reach out to one of your neighborhood Seal King's and we will be glad to help you!