Minnesota's Top Sealcoating Company
Posted In: Seal Coating
Published On: October 07 2022
Written By: Seal King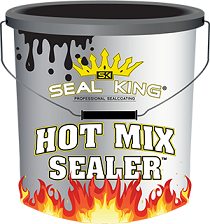 Seal King started out many years ago as a small, local business in Lakeville, Minnesota. We started out focusing on residential sealcoating services in 1991 and grew over the years to serve clients in Iowa and Wisconsin as well. In addition to residential sealcoating services, we also complete commercial projects, asphalt repair and garage apron repair. Our goal is to help protect the asphalt on your property from weathering, traffic and damage that can come from years of normal wear and tear. Sealcoating adds a layer of protection to your asphalt and can prevent cracks and holes that can develop.
Residential And Commercial Sealcoating In MN
The team of professionals at Seal King understands that you have choices when it comes to choosing a company to partner with for asphalt repair and sealcoating services. You may be tempted to hire a company that advertises an extremely low rate. In many of these cases, you will get (only) what you pay for. Many companies use a mixture of sealant that cannot withstand the Minnesota weather. As a result, you will be looking at needing to repeat the sealcoating process, which will ultimately cost you more. When you work with Seal King, you will get the highest quality sealcoating sealant and application process in the business. We do not cut corners; our staff is professional and we always leave the area we work on as clean (if not cleaner) than when we arrived. You will not find better quality or service in the area. That is our Seal King promise! We also stand behind our work so if you notice any sort of problem, reach out and we promise to make it right.
Protect Your Asphalt With Sealcoating
Whether you are looking to protect your home's driveway, or your business' sidewalk or parking lot, Seal King can help. We have invested in this community and work hard to make sure that you are completely satisfied with our work. Many of our customers come from referrals from recent residential or commercial sealcoating projects, and we believe that's exactly why we were able to grow across our area over the years. Sealcoating is an investment in your property. We take that investment very seriously and work hard to make sure that you can be proud of the final product. With Seal King locations scattered all over Minnesota and beyond, you are bound to find a location near you!