Newly Sealcoated Driveway Makes Your Property Look Better
Posted In: Asphalt Sealcoating
Published On: July 01 2022
Written By: Seal King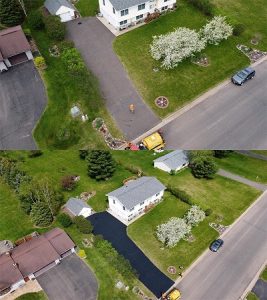 Seal King professional sealcoating is your best source for replacing your old, cracked, weather beaten, potholed driveway or parking lot with a smooth, clean, and welcoming surface. Our staff can transform a problematic parking surface with one that is not only more appealing to the eye, but which is also much safer. If your driveway or parking lot has cracks, fissures, and/or potholes, it is very easy to step wrong and turn an ankle. No homeowner wants the pain and inconvenience of injuring themselves in their own driveway, of course, and certainly no business owner wants such an accident happening in their parking lot. A driveway or parking surface restored by Seal King reduces the likelihood of injury.
Reasons To Have Your Driveway Or Parking Lot Sealcoated
A surface coating with our high-quality professional sealer adds curb appeal to both homes and businesses. If you are considering selling your home, or have made the decision to do so, having us sealcoat your driveway can even add value to your property. But even if you are not considering selling your home, a newly sealcoated driveway simply helps your property look better. Businesses are also concerned about curb appeal, especially when those businesses are responsible for their own parking areas. A visually appealing business is one that attracts the attention of potential customers. A smooth parking lot is more likely to help potential customers enter your place of business without the stress of having to navigate through a beaten-up parking lot.
Seal King made its name by perfecting the processes associated with repairing and adding durability to driveways and parking lots. Such surfaces are under constant stress from environmental factors. Rain, sleet, and snow and direct sunlight are the obvious culprits because each works to degrade the microscopic bonds that create the solid surface. Over time, the sunlight, rain, sleet, and snow succeed in their quest to create small cracks first. Small cracks become larger cracks, and then large cracks become fissures. When the weight of automobiles is added to the equation, the degradation process moves faster.
Professional Sealcoating Services In MN, IA And WI
The Seal King process of filling cracks and scoring edges prepares your driveway or parking lot for the sealcoating process, and that is the point when your parking surface regains its strength and durability. In addition to improving the overall look of your driveway or parking lot, our coating will protect the surface and extend the life of the area. There are many Seal King locations conveniently located in Minnesota, Wisconsin and Iowa. You will not have to look far to find one near you!