No Contact Sealcoating
Posted In: Asphalt Maintenance
Published On: June 08 2020
Written By: Seal King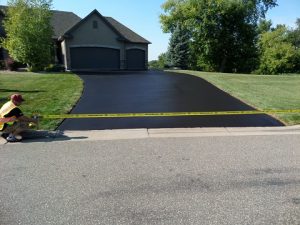 Given the concern over the spread of COVID-19, Seal King is now proud to offer no contact sealcoating services to our customers. Our work is not all that different than before, but with the world changing so fast recently, it has become increasingly important to provide our customers with the assurance that they can still use our services without having to worry about safety. One of the many parts of The Seal King Promise is excellent customer service, and we are happy to report to you that we are able to maintain our excellent customer service even without having direct contact with our customers. Just give us a call today to schedule a no-contact sealcoating appointment today. You will be glad you did, after all no-contact is a good idea with everything that is going on.
Safety Measures for No Contact Sealcoating Services
If you need professional sealcoating services, we may not be able to shake your hand after the job has been completed, but you will still feel the same cordial, respectful, and friendly demeanor from our staff that is built into The Seal King Promise. One positive aspect of this difficult time is that it gives us the chance to take care of things around our homes and businesses that the pace of our lives before might have made more difficult. For example, if you are working from home, you may have more time to identify projects that you have wanted to tackle, including sealcoating your driveway. Another example is that if you own a business, and traffic to it has diminished because of the stay-at-home orders in your area, now could be an ideal time to sealcoat your parking lot.
The nature of our business lends itself well to no contact completion of our work. We can work in your driveway or parking lot and maintain a safe distance from everyone in your home or business. However, the nature of our work also allows us to have in-person conversations, when needed, at a safe distance. Typically, we have those conversations with our customers so that they are informed about the work we are performing for them, and that does not need to change. Right now, we can have these conversations by phone, text, email or outdoors at a safe distance.
No Contact Sealcoating Appointment
In the end, our work will provide you with a newly protected driving surface, whether it is your driveway or parking lot. When life does return to something that feels more normal, your driveway will be a completed project that allows you to feel productive during this time, and your parking lot will allow you to feel ready to welcome back customers and clients. There are many convenient Seal King locations in the area to serve you. Contact any of our locations directly to schedule a no contact sealcoating appointment.