Asphalt Sealcoating Forest Lake MN
Posted In: Seal Coating
Published On: July 14 2014
Written By: Seal King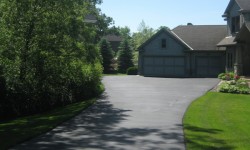 Are you in the Forest Lake, MN area and looking for a highly professional sealcoating company? If so, Seal King offers the best quality, expertise and techniques for results can't be matched. We offer the best products in the industry at competitive prices. We will give you a free quote on your asphalt sealcoating needs, whether its a driveway, pathway, parking lot or road- we've got you covered, with only the best!
Why Sealcoat your Asphalt Surfaces?
While your inside your home, listening to the relaxing sound of pitter-patter on your roof, your driveway is being poured on, which is eroding the surface and enlarging cracks and potholes. When it the weather turns it up a notch and starts to thunder and lightning, while your inside safe your asphalt extremely vulnerable to a bolt.