Parking Lot Repair Is A Must
Posted In: Parking Lot Repair
Published On: October 28 2022
Written By: Seal King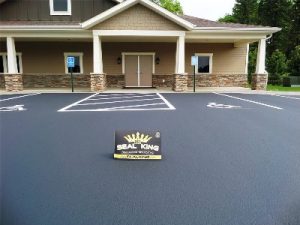 If you own your own business (or manage one), your parking lot is a very important part of your customer's experience and first impression. If your parking lot is smooth, without damage and potholes, there are no barriers to your customers entering your business and spending money. They will have a positive impression of your business. However, over time, the asphalt in your parking lot can become damaged, cracked, discolored, and potholes can form. Potholes are not only a nuisance but can be a safety hazard. This can ultimately deter your customers from frequenting your business. Seal King offers commercial sealcoating services for your business. Our team can repair any damage to the asphalt in your parking lot and then apply our high-quality professional sealant to protect your parking lot from any further problems.
Benefits Of Commercial Sealcoating Services
Now is a great time to partner with the team of professionals at Seal King for our commercial sealcoating services. Winter is on the way and the moisture and temperatures can cause cracks to expand and potholes to grow. Rather than wait until the spring when more extensive asphalt repairs will be necessary, resolve the issue now. Our technicians follow a very consistent 10 step process to ensure that the asphalt is fully repaired and that our trademark hot mix sealer is spread evenly to protect every square inch of your parking lot. This process will prevent moisture from getting under the asphalt over time and creating those nasty potholes.
If your business relies on foot traffic, it is important to give a good first impression to encourage customers to consider making a purchase from you and/or recommending your business to others. Your parking lot is often your client's first experience with you, and you want to be able to show that you care about your client's and want them to return. A smooth, easy to navigate parking lot without potholes is a great first step toward making a strong first impression.
Professional Sealcoating Services
Seal King has been teaming up with businesses and churches conveniently located all over Minnesota, Iowa and Wisconsin for more than three decades. In that time, we have grown from one small sealcoating company to a company with franchises all over the area. We have built this success because of our relationships with our customers, our honesty, our affordable prices and our commitment to doing each and every job right. If you are not satisfied with an aspect of our work, let us know and we will make it right.