Power Edging Driveway Treatment
Posted In: Asphalt Maintenance
Published On: May 11 2020
Written By: Seal King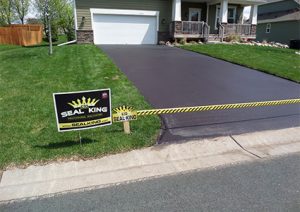 In addition to providing homeowners and business owners with superior driveway and parking lot sealing services, Seal King also offers power edging driveway treatments. Power edging gives your driveway or parking lot a cleaner, sharper look by removing the grass and other growth that grows on the edge of the driveway or parking lot surface. Not only does our power edging treatment create a more desirable overall look, it also helps to ensure the longevity of your driveway or parking lot. Our power edging treatment is part of 10 point patented process that is preformed before we apply any sealer to your driveway or parking lot.
Improve the Overall Look of your Property with Power Edging
Power edging driveway treatments certainly give your property greater visual appeal, and Seal King has earned our strong reputation because of our commitment to excellence in all of the services we provide Power edging driveway treatments may be considered an optional service by many of our competitors, but we see it as an essential component to making your property look as beautiful as possible. The most beautifully sealed driveway or parking lot will not stand out if the edges are ragged and brittle. Our power edging process produces sharp edges that are strong enough to stand up to the demands that your driveway or parking lot has placed on it.
Because power edging driveway treatments serve to enhance the visual appeal of your property, Seal King is also committed to removing whatever waste is created by the process of power edging. We will never leave a mess behind, and we guarantee your complete satisfaction with our work. In addition to having the highest standards of professionalism and industry expertise in the business, we always back up that commitment with what we call The Seal King Promise.
High Quality Power Edging Driveway Treatment
Built into our business model is the desire to do everything in our power to ensure that our customers are satisfied with the work we do for them. We establish with you, from the beginning, only the best communication so that you feel informed at every step of the process. If a problem arises, good communication allows both Seal King and our customers to address it honestly, openly, and forthrightly, and you have our commitment to fixing whatever problem may arise. We can offer The Seal King Promise precisely because we have built efficiency and high standards of quality into our work. There are many conveniently located Seal Kings in the area, and we look forward to working with you.