Preventing Cracks And Potholes In Your Property's Asphalt
Posted In: Apron Repair
Published On: January 28 2023
Written By: Seal King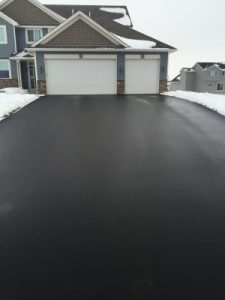 It may be the dead of winter right now, but soon enough all of the snow will melt, the temperatures will begin to rise, and we will find ourselves on the verge of spring. With that comes more light during the day, flowers blooming, grass growing but also a large number of potholes. The winter weather does significant damage to the asphalt surfaces in our area. Moisture finds its way beneath the surface and causes cracks which get bigger and bigger and lead to nasty potholes. These potholes can appear in your driveway, sidewalk, parking lot or anywhere else on your property with asphalt.
There may not be much you can do about these cracks and potholes now, but as the snow melts and the temperatures rise, it will be the perfect time to repair your asphalt surfaces to prevent driving and walking hazards for your guests. Seal King offers high quality asphalt repair and professional sealcoating services that can repair the cracks and damaged asphalt and protect it for many winters to come. This small investment now will save you time, money and stress down the road. You can prevent these potholes, cracks and other damage from ever occurring.
Each winter that your property's asphalt is not protected, it will weaken, deteriorate and eventually simply crumble. This is just a natural process. Our sealcoating services give your asphalt a protective layer that will not allow moisture to get beneath the surface and cause problems. We use only the highest quality sealant in the business and take great care to ensure that your asphalt is protected. We can repair and seal even the smallest cracks in your driveway and sidewalks to prevent future problems.
Professional Sealcoating Services
Seal King has been in business for more than three decades. We started as a very small local business and now have franchises all over Minnesota, Iowa and Wisconsin. All of our locations provide the same great service and high-quality standards for our customers. We also stand behind our work and if you find a problem with a project, we will make it right. That is what we call the Seal King Promise. So, as you think ahead about projects that you want to tackle this spring, consider adding asphalt repair and professional sealcoating to the list. We can help you improve the look and curb appeal of your property without breaking the bank.