Professional Sealcoating Company With High Quality Sealant
Posted In: Commercial Asphalt Sealcoating Services
Published On: December 30 2022
Written By: Seal King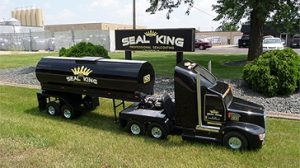 Making an investment in the exterior of your home or property is important to keeping it looking its best and preventing problems from occurring. You may need to invest in a new roof, siding, improvements for your deck, repairs to your windows, or doors periodically. One of the things that you likely look for when making these investments in your home is the quality of the materials used. After all, when you live in the Upper Midwest, the exterior of your home has to endure harsh weather all year long from snow, ice and wind to heat and intense rain. Settling on companies that cut corners or use low quality products can leave you in need of additional repairs or the need to re-do the whole project entirely. After all, the exterior of your home can take a real beating.
Asphalt Repair And Sealcoating
Your driveway and asphalt walkways are no different. They are used every day and are battered with the weather 24/7. So, when it is time to have your asphalt repaired and protected, look no further than the team at Seal King for assistance. Seal King specializes in asphalt repair and sealcoating services, which will provide a strong layer of protection against normal wear and tear, traffic and weathering. We use the highest quality sealant in the business. The staff at Seal King custom blends our exclusive Seal King Sealer and we only use the very best raw products along with high performance additives and special blackening agents. We blend each batch of our sealer together very carefully, using state of the art hot mixing equipment and pumps. The result is a high-quality sealant every time. No other local company takes as much care with their sealer. The result is a product that better protects your asphalt and lasts longer, so your investment goes further.
Professional Residential And Commercial Sealcoating Services
Seal King has been in business for more than 31 years serving homeowners and business owners all over Minnesota, Iowa, Wisconsin and beyond. We have locations all over the area so it is not difficult to find a Seal King near you. We offer residential and commercial sealcoating services as well as asphalt repair. We are committed to offering professional service, competitive pricing and always the highest quality materials. In fact, that is what we call our Seal King Promise. And, if you are not satisfied, just reach out and we will make it right!