Professional Sealcoating Lakeville, MN
Posted In: Asphalt Sealcoating
Published On: October 30 2020
Written By: PROFESSIONAL SEALCOATING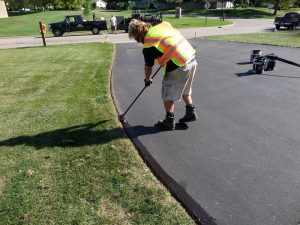 How is the look and quality of your driveway in Lakeville, MN holding up? Do you look at your driveway regularly and tell yourself that you're going to get some work done on the asphalt, but you never get around to it? Well, revitalizing and strengthening the look of your driveway is actually easier than you may think. Replacing the asphalt on your driveway often isn't necessary. Instead, you can invest in a driveway sealcoating application. Our team at Seal King Professional Sealcoating are proud to offer proven and affordable driveway sealcoating near you.
Want That New Look Curb Appeal?
Sealcoating Your Driveway Is An Affordable Option
So many individuals in Lakeville, MN are surprised at how affordable our sealcoating services are. Many homeowners are intimidated by asphalt because they have seen just how much it can cost to replace. By choosing to invest in our driveway sealcoating services, you'll be able to achieve a fresh new look for your driveway, at just a fraction of the cost you'd end up spending replacing your driveway. Affordable doesn't mean that our team cuts corners to get you a lower price. In fact, every driveway sealcoating project that we take on goes through our proven 10-step process.
Additional Benefits Like Protection Against Mother Nature
Lakeville, MN gets its fair share of tough weather each year. Whether it's the hot and beaming sun in the summer or ice and snowy conditions during the winter, mother nature can take a beating on your asphalt. Our sealcoating services provide that extra layer of protection that your driveway needs to hold up well against whatever type of weather mother nature throws your way. Our driveway sealcoating services hold up great against sunlight, weathering, traffic and oil spills.
The Seal King Promise
Our team of professional sealcoaters have been around since 1991. Over these many decades, we've mastered the driveway sealcoating process, which has enabled us to offer our clients the Seal King Promise. If you are not totally satisfied with the driveway sealcoating application that you receive from our Lakeville, MN team, reach out to us before winter and we'll come back to resolve the issue at no cost. This promise should make the decision of investing in our top-notch driveway sealcoating services even more simple for you.
If you are ready to give your driveway the attention that it needs and deserves, our team at Seal King Professional is here to get the work done for you! Take advantage of our affordable and long-lasting driveway sealcoating services that will rejuvenate your driveway once and for all. Contact our Lakeville, MN location today at (952) 469-6639 to request a free quote.