Professional Sealcoating This Spring
Posted In: Residential Sealcoating
Published On: March 31 2022
Written By: Seal King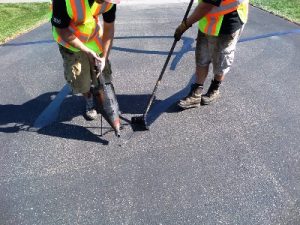 As the area begins to thaw out, we turn our attention away from snow, ice, shoveling the sidewalks and scraping our cars to spending more time outdoors without heavy coats, gloves and boots. It might not be quite time to shed those layers yet, but one thing that we can begin to think about is what things will look like without all of the snow around. Green grass, flowers in bloom and warmer temperatures are very appealing, but there are other issues that may be revealed when the snow melts. Seal King fields so many calls in the early spring about new potholes, cracks and damage to asphalt and sidewalks.
Why Do You Need Sealcoating Services For Your Asphalt?
The winter months can cause significant damage to asphalt, parking lots, driveways and sidewalks. Some of this damage you may not even notice until after it warms up and snow melts. Moisture can get through small cracks and pores in the asphalt causing larger cracks and holes to form. It happens each and every year and the best possible thing that you can do for your asphalt when the weather turns warmer is to consider professional sealcoating. Sealcoating protects asphalt from the damage that winter weather can do to your sidewalks, driveways and parking lots. The protecting coating will not allow moisture to seep into the surface and cause the cracks and holes.
Seal King specializes in professional sealcoating services and has many convenient locations all over Minnesota, Wisconsin and Iowa to serve you. Whether you are a homeowner or own a business, asphalt on your property is something to pay attention to this spring. We can complete all types of asphalt repair and sealcoating services including crack sealing, patching, or asphalt overlay. Repairing cracks before they become a major issue is a part of good asphalt maintenance. We can take care of even very small cracks so that water and dirt cannot get underneath to the base layer and cause major problems for you. Our team will seal these cracks tightly to prevent future problems. If you have more damage, we can also patch the area and then seal it for a long-term solution.
Experienced Professional Sealcoating Company
When you partner with a local Seal King, you will receive strong customer service, competitive pricing, an attention to detail, professionalism and the highest quality sealcoating product on the market. With nearly thirty years of experience, we follow a carefully developed sealcoating process and never leave a mess behind. As winter begins to fade, give us a call for all of your sealcoating needs.