Protect Asphalt From The Minnesota Elements
Posted In: Asphalt Maintenance
Published On: September 02 2023
Written By: Seal King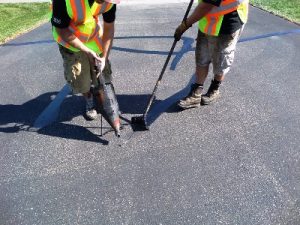 It has been a hot summer across the state, followed by many evening storms. You may assume that the winter months in Minnesota are harder on things like the exterior of your home or your asphalt driveway, but in fact the sun and heavy rain can be equally damaging over time. Now is a great time to think about professional sealcoating your asphalt so that it has a layer of protection from the harsh Minnesota elements all year round.
Sealcoating For Your Sidewalks, Driveways And Parking Areas
Your asphalt driveway, parking lot or sidewalk takes a beating every hour of every day. Direct sunlight can cause cracks and change the color and texture, leading to problems for the owner. When the rain and thunderstorms come, the water can get underneath the vulnerable areas of the asphalt and cause even bigger problems – like large potholes that can be a safety hazard and certainly an eyesore. Seal King may not be able to do anything to change the weather – Minnesota will continue to have hot summers and cold, snowy winters – but we can protect your asphalt from the elements. Our professional sealcoating services offer a strong layer of protection for your asphalt to keep the water from penetrating the surface and prevent the sun and traffic from wearing down the asphalt.
The staff at Seal King has extensive experience with professional sealcoating in Minnesota. This protective coating is a great investment in keeping your property looking its best year after year. Over time, sealcoating actually pays for itself in the sense that you do not have to worry about costly repair bills. Our sealcoating services are affordable and the highest quality in the area. We stand behind our work, clean up after ourselves, use the highest quality sealant and offer excellent customer service. We will never cut corners and always communicate clearly about our plans and timeline for finishing our work. Other local companies may advertise a lower price but you will no doubt receive a lower quality experience.
Local Sealcoating Business In Minnesota
Seal King has convenient locations all over Minnesota. We started as a very small, local sealcoating business in 1991 in Bloomington, MN and we have grown each year since. We enjoy getting to know our clients in the area and are always humbled by repeat customers and the many positive reviews we get. You can protect your asphalt without breaking the bank with our professional sealcoating services. Contact us today for more information!