Protect Your Asphalt Driveway And Parking Lots
Posted In: Asphalt Sealcoating
Published On: August 05 2022
Written By: Seal King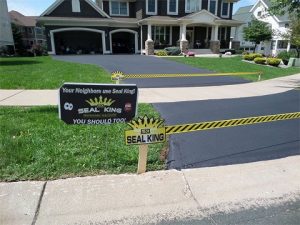 Seal King is a professional sealcoating company that is ready to repair and resurface your driveway and/or parking area. As the area leader in professional sealcoating, we have earned our reputation for not only beautifying driveways and parking lots, but for making them safer for local residents and customers.
The parking lot of a successful business sees a lot of activity, and that activity involves dozens if not hundreds of heavy vehicles placing the parking surface under great stress constantly. The weight of vehicles driving and parking on asphalt surfaces causes failure of the material over time. Seal King gives new life to tired, worn, and damaged parking surfaces. Our process involves fixing and patching damaged areas and cleaning oil and other stains. We will also repair edges that have begun to crumble and fracture so that the end product is strong from side to side and along its entire length. It is only after the parking surface has been properly prepared that we begin the process of sealcoating. That is what separates us from some of our competitors –we follow a thorough process and put effort into making sure that the sealcoating process will last as long as possible.
A parking surface that is not adequately prepared to absorb the sealant is far more likely to fracture and fail, so we work to make sure that the sealcoating process is optimally prepared. We fill all cracks and patch all holes, and then sharpen the edges around the perimeter of the area to be seal coated. It is only then that we consider the surface ready for our unique and successful sealcoating process. Our sealcoating is heated to four hundred degrees, which allows for maximum spread ability and coverage. Our expert staff apply the sealcoating evenly, which results in a surface so smooth it almost reflects like a mirror.
Make Your Parking Lot And Driveway Safely
The business owners we serve understand that a parking surface treated by Seal King has the potential to increase business simply because a freshly sealed parking lot is more visually appealing. While homeowners may not be motivated by increasing customer traffic, they are certainly motivated by curb appeal (for potential future sale of the property), aesthetic value, and safety. A Seal King driveway reduces, if not eliminates the risk of turned ankles and injuries from falls caused by cracks and bumps in the driveway.
We are an industry leader, and we would be honored to serve you. With many Seal King locations all over Minnesota, Wisconsin, and Iowa, you are sure to find a convenient location near you!