Protect Your Asphalt During Winter Months
Posted In: Asphalt Maintenance
Published On: November 30 2021
Written By: Seal King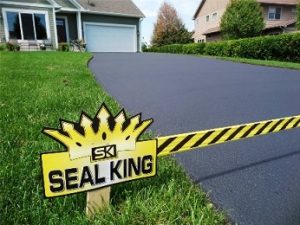 We are almost to that point of the year when the weather changes and we spend much more time indoors than outdoors. In fact, because of low temperatures and snow and ice accumulation, the outside becomes much less desirable and even looks different than it does in the spring, summer and fall. We may not even think much about the outside of our homes and businesses during the winter months, thinking that we will have to wait on any outside project. Well, this is not the case…especially when it comes to your driveway or sidewalks. The winter months that bring snow, ice, freezing rain and cold temperatures can also do significant damage to your driveway and sidewalks.
Benefits Of Sealcoating
The best way to deal with this is to have your asphalt professionally seal coated to prevent more cracks, potholes and discoloration from occurring this winter. Seal King specializes in professional sealcoating services and has many convenient locations all over the Minnesota, Iowa and Wisconsin area. Sealcoating adds an extra layer of protection that does not allow water to seep into the concrete, causing those cracks, holes and damage. Seal King uses a high-quality sealer that provides extra protection than some of our competitors as well.
You can count on our team to complete the application process carefully and quickly so that we do not get in your way. We understand that winter is coming fast so we will work to get you in as soon as possible. Do not fall for other companies that say that they can complete the same sealcoating job for less. You get what you pay for and will receive a lower quality sealcoating mix and a job where staff cuts corners. When you work with us, we are totally honest about what we will provide, and we stand behind our work. We guarantee your satisfaction and if you have questions or concerns about our work, give us a call and we will make it right. That's our Seal King Promise to you!
Professional Sealcoating Services
So, think ahead this winter and protect your home or business' asphalt before winter arrives. Each winter day can create problems for your driveway and/or sidewalks. Sealcoating is an excellent investment and can save you money down the road. Reach out to a Seal King near you for more information or to schedule a time for our team to come out this fall!