Protect Your Asphalt Surfaces From Cracks And Holes
Posted In: Asphalt Repairs
Published On: April 29 2023
Written By: Seal King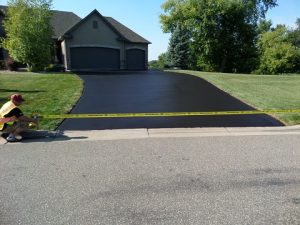 Even after a mild winter in the upper Midwest, driving and parking surfaces take a beating. What might have been tiny cracks in October have been under constant assault by wind, rain, snow, and ice, are now larger cracks and holes. Edges that were showing signs of fraying are now crumbling. Damage done to parking surfaces is not to be taken lightly. The deterioration of a parking surface can quickly become a safety hazard, which takes them from an eyesore to a true problem. Seal King has earned the reputation for being the leading driveway and parking sealcoating company by performing high quality asphalt repair and sealcoating services all over the Upper Midwest.
Professional Sealcoating Services
As the weather begins to warm up, the time to address the cracking, fissuring, and crumbling asphalt surfaces of your home or business is now. The next best time is soon after that. In other words, take advantage of the improving weather to ensure that your parking and driveway surfaces are not only aesthetically appealing, but safe.
One of the greatest, but perhaps less well known, advantages of working with Seal King is that we have built in a degree of efficiency to our sealcoating process that our competitors cannot match. Even very large parking lots can be resurfaced in a relatively short amount of time. From the moment we arrive to assess the level of damage to your parking surface to the point when the sealcoat has cured enough to welcome heavy automobiles on it is only a matter of a few short days.
High Quality Sealcoating Protects Your Asphalt
Our process begins by preparing the surface to accept our Seal King sealcoat. We will fill cracks that have the potential to become more problematic, thus stopping the problem before it becomes worse. We will sharpen the edges of the surface so that your parking surface is symmetrical, and as it was designed. When these processes are complete, we then add the layer of steaming hot sealcoating, which is the last step of the process. After a relatively short period of time, which is somewhat dependent on weather conditions and relative humidity, your parking surface will have been returned to like-new condition.
The quality of the materials we use means that you have not only added beauty to your parking surface, but you have also restored its strength and durability. A Seal King parking surface is built to last. If you would like more information, reach out to your nearest franchise in Minnesota, Wisconsin and Iowa.