Protect Your Asphalt Surfaces From Winter
Posted In: Asphalt Maintenance
Published On: September 09 2023
Written By: Seal King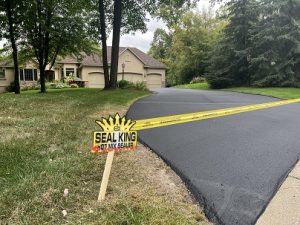 Fall is here and we all know what that means – winter is right around the corner! Snow, sleet, cold temperatures. Now is a great time to think about preparations for the winter months. For some of you that may mean having service done on your car so that it is ready for winter, or having someone take a look at your roof or gutters to prevent snow and ice from creating an ice dam and costly damage. Your property's asphalt is another area that may need attention this fall. If you have noticed small cracks or holes in your asphalt, this will only worsen without attention. The professionals at Seal King can repair your driveway or other asphalt surface and then apply a protective coating that will seal it off from the rain, snow and ice that will fall this winter. No more cracks and no more potholes mean a smooth surface for walking, driving and greeting guests.
High-Quality Sealcoating Services
Our professional sealcoating services are the best and highest quality in the Minnesota area. We use a high-quality sealant that is carefully blended together by our experienced staff using only the highest quality raw products, high performance additives and blackening agents, high performance additives, and special blackening agents. We take pride in this process and knowing that we are providing our clients with a product that will stand the test of time. The key to professional sealcoating is to prevent moisture from getting underneath the asphalt and causing damage. Damage can look back; it can be unsafe for walking or driving and it can get worse over time. Professional sealcoating is ideal for our harsh and unpredictable weather.
Why Choose Seal King?
Seal King has been serving the Minnesota, Wisconsin and Iowa area for more than thirty years. We started this as a small local business (out of a garage) and have grown steadily over the last three decades because of our commitment to quality and service. We even make a Seal King Promise to each and every one of our clients. If you are not fully satisfied with our work, simply contact us and we will return and make it right with you. We stand behind our work because we think honesty and integrity matter in a business. We will never cut corners and will always be transparent about our timeline and the cost estimates for our work.
With Seal King locations scattered all over the area, you will find one near you in time to get your asphalt protected before the winter months!