Protect Your Asphalt This Fall
Posted In: Asphalt Maintenance
Published On: August 19 2022
Written By: Seal King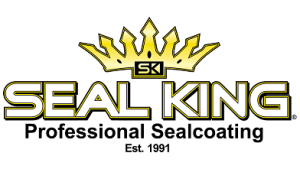 As we make our final plans for the summer, we start to look ahead to the fall which brings school for the kids, a more regular family routine and, of course, changes in temperatures. These changes to the weather mean that we will need to put extra blankets on our beds, turn on the heat inside our homes, wear jackets in the fall and eventually winter coats, hats and gloves. The asphalt on our property is impacted by the change in temperatures throughout the year as well. One thing that can protect your asphalt driveway, sidewalk or parking lot is professional sealcoating.
Impact Of Weather On Asphalt
Changes in temperature, sunlight, and moisture can create significant problems for your asphalt. Over time, you will notice discoloration, changes in texture, cracks and even major potholes. These issues may seem minor, but they can grow and become a real eye-sore and a safety hazard for those walking and driving around the area. Professional sealcoating can be applied after asphalt is repaired and will prevent that wear and tear. It offers protection from the elements just like our coats do when we head outside in the middle of winter.
Professional sealcoating is affordable and an excellent investment in the exterior of your home. Even if your asphalt is in good condition, you should consider it, to prevent future problems and keep your driveway, sidewalk and/or parking lot looking its best. Seal King is a professional sealcoating company based in the Upper Midwest with many convenient locations all over the area. We began as a local, small business offering high quality sealcoating services, affordable pricing and the best customer service in the business. Even though we have grown significantly and expanded our reach, we continue to be true to these principals. That is what we call our Seal King Promise. We stand behind each and every job we perform if our work is not up to your standard, we will make it right.
Professional Sealcoating Services
One other thing that sets Seal King apart from the competition is that we do not cut corners with our work. We take great care with each sealcoating job because the final product matters. If we do not follow our process, the end result is that the sealcoating job will not last as long and your asphalt will not be protected. Reach out today to a Seal King near you to schedule a professional sealcoating consultation.