Quality Driveway Sealant
Posted In: Asphalt Sealcoating
Published On: August 31 2020
Written By: Seal King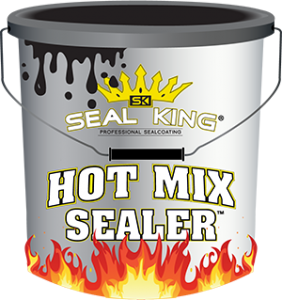 With almost every product on the market today, there's generally something always trying to mimic a good quality product with one of less value. Take diamonds, for instance. Diamonds are known for their strength, durability and sparkle. However, many people are solely interested in the look of the diamond and the way it sparkles. So instead of purchasing the strong, durable diamond, they choose a much cheaper, much less durable rock called the cubic zirconia. Sure, it may look like a diamond at first, but it is clearly not the same. It's much less durable, not as strong and the value simply will not hold. At Seal King Professional Sealcoating, our driveway sealant is a diamond. It is built to be long lasting, strong and hold up well. Unfortunately, the same can't be said for our cubic zirconia-like competitors. For quality sealcoating, our sealant outshines the rest.
Utilizing High Quality Sealant
We didn't just come up with a high-quality sealant overnight. To be the best on the market has taken many years to perfect. The Seal King sealer is custom blended to outperform any other sealant on the market. We specifically make our sealant to protect against our rough climate and our heavily trafficked areas. For 29 years, we have taken an ample amount of time in finding the right balance for preparing and mixing the materials to create the perfect sealcoating blend. We only utilize the best Raw products, the highest performance additives and special blackening agents to give our customers the best asphalt sealcoating result.
The Blending Process
Seal King utilizes a hot mix sealer method to perfect our sealcoating process. We heat our water as we introduce it to the raw sealer supply. This allows for the products to blend better and create the exclusive Seal King sealer. Of course, until we begin the blending process, we house everything in a temperature-controlled warehouse, ensuring that every product is fresh and well-maintained.
Sealcoating Application Process
While our sealant is no doubt the best on the market, the fact still remains that it is only as good as the technician that applies it. At Seal King, our professionals follow a thorough process, ensuring that every customer receives impeccable, long-lasting results. We are so confident in our driveway sealcoating product and application process that we offer the Seal King promise. If you are not satisfied with your service, let us know before the season ends and we will work to resolve the issue.
Don't trust the fast gimmicks and seemingly cheap coupon deals. Those companies are your cubic zirconia companies that will not give you the lasting results you need. Instead, call the diamond in the rough. Call or visit your local Seal King Professional Sealcoating company today. For more information or to find your nearest Seal King, visit us online at https://www.sealking.com/contact-us/.